Kawasaki Gpz 750 Motorcycles for sale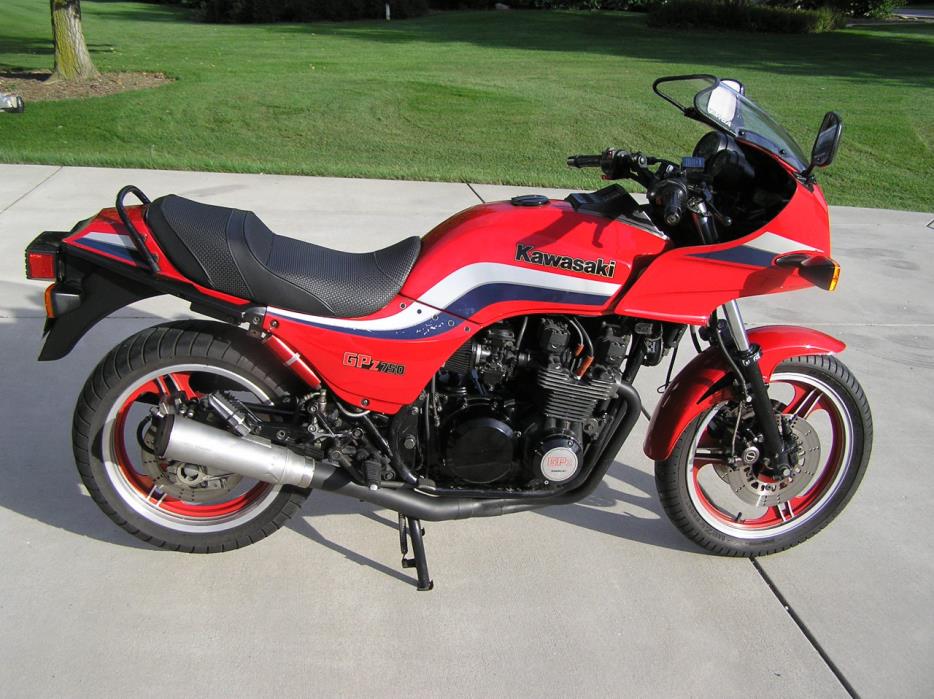 $1,025
Hartland, Wisconsin
Kawasaki 1983 GPz750 For Sale $1025 Motor has a Wiseco 810 piston kit installed, milled head, degreed stock cams and banded clutch basket by Falicon. Will run on 87 - 93 octane pump fuel. SuperTrapp Exhaust with coated header by Jet Hot. Dynojet Stage 3 carb kit with K&N oval filters. Accel Coils and spark plug wires Fox Twin Clicker Rear Shock. Progressive Suspension Front Fork Springs. Telefix Fork brace. Rear GPz 1100 17" wheel widened to 4.5" by Kosman. 530 gearing Has taller handle bar stalks and handle bars from the 84-85 GPz750. Custom seat from Sargents Included is a Stock red 18" rear wheel, 2 new front 530 PBI Sprockets, Battery Tender, Factory Service Manual and spare Head Gasket. Mileage Indicated on odometer is 16,350 but actual mileage is unknown.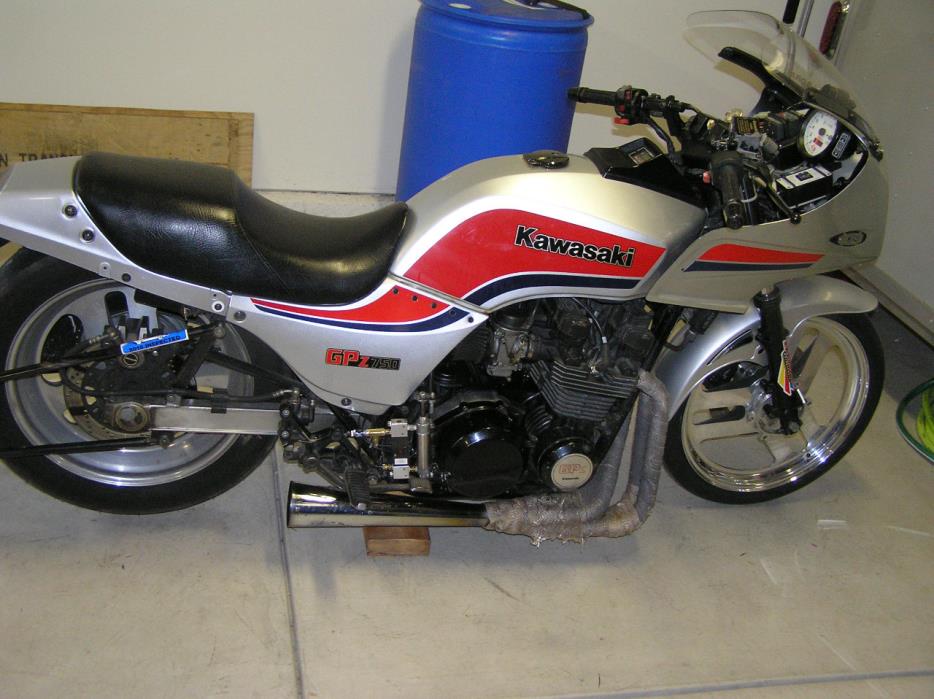 $1,995
Hartland, Wisconsin
1983 GPz750 Dragbike Racing Package w/Spares $1,995 / New Price 83 GPz750 Dragbike, 18" PM Wheels, 530 Sertco Torsion Sprockets. Engine has Wiseco 810 piston kit, 10.25, Head milled .025, Degreed cams, 1990 GSXR 1100 carbs w/ K+N filters. Jardine Sidewinder. Runs on 93 Octane Pump Gas. Push Button start. MPS Auto Shift and Kill Timer, Dyna Shift Counter, Manual Shift Kill Plate. VDO Extreme Play Back Tach. MSD Ignition, Accel Coils, 2 Biondo Digital RPM Controls. Banded Clutch Basket by Falicon. Lock-Up Clutch with Biondo RPM controlled Air Assisted Lock-Up for consistent 60' times. Clutch is set up now for a 170# dressed rider. Complete clutch shim kit included to adjusted for different rider weights and conditions. Comes with a Plug in Electrical Harness attachment for Delay Box Racing. Bike runs 10.7s to 10.9s depending on weather conditions. This Bike and Spares shown in the pictures are ""NOT"" being parted but sold as a Package for $1,995 Spare 90 GSXR1100 Carbs w/Jet Kit, Intake Manifolds, 5 Wiseco Graphite Head Gaskets, Assorted Clutch Plates + Chrome Steels, Kill Switch, Clutch Spring Pressure Tester 1990 GSXR spare Carbs have the same Stage 3 jet kit as what is on the Racebike. Rubber Intake Manifolds fit these Carbs. Lock-Up Clutch Shims and Arm Weights Spare GPz750 Engine w/ Wiseco 810 Pistons and Banded Clutch Basket Spare Jardine Sidewinder in Painted Color Bike Cover, Center Stand, Spare Dial In Board, Full Nitrogen Bottle w/ regulator 8 Gallons Maxum 5w30 / 28 Qts Klotz 10w30 Synthetic w/ TechniPlate Enough oil to race for the next 10 years Assorted Factory Gaskets and Factory Service Manual w/ Assembly Notes Slider to fit KZ/ GPz750 with Clutch Lever Lock-Up Spare motor could be changed over to this Slider Clutch set up that uses a rod to pull the clutch pack tight with the clutch lever to drive bike back down the return road. 530 Assorted Rear Sprockets, Front Offset Sprockets, Stock F/ Wheel w/ Half of Spokes Removed, 2 New 5.5x18 Slicks Spare Electronics, Cables, Starter + Chain
$4,300
Longview, Texas
lots of aftermarket add ons. Race ready. And questions call Zack at 903-738-2572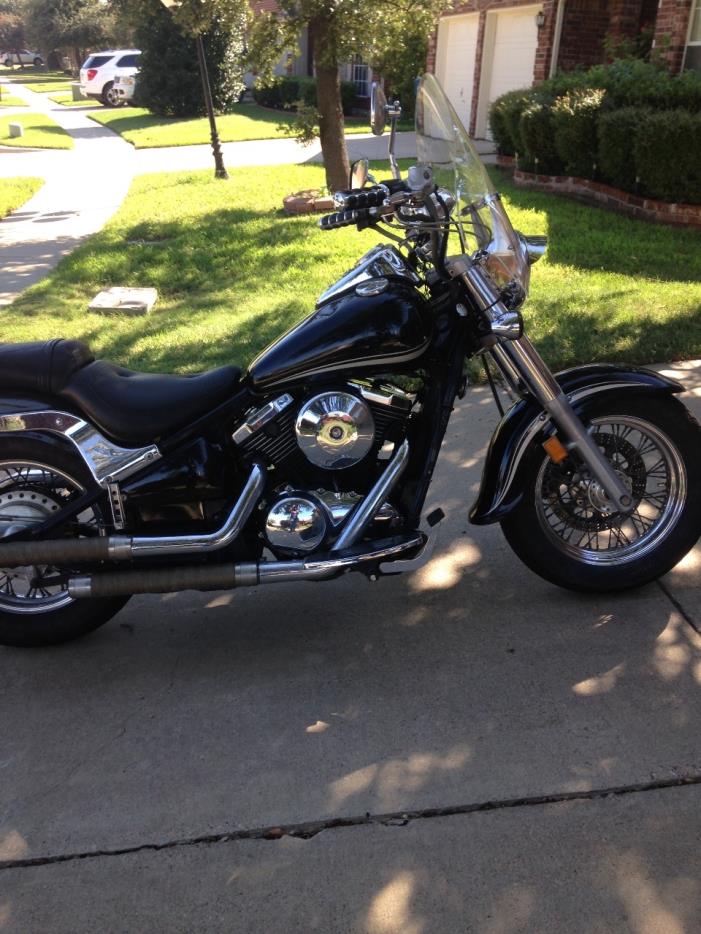 $2,500
Sachse, Texas
Category -
Engine 800 cc
Posted Over 1 Month
Great running bike with Vanceand Hines pipes Would make ideal starter bike. New rear tire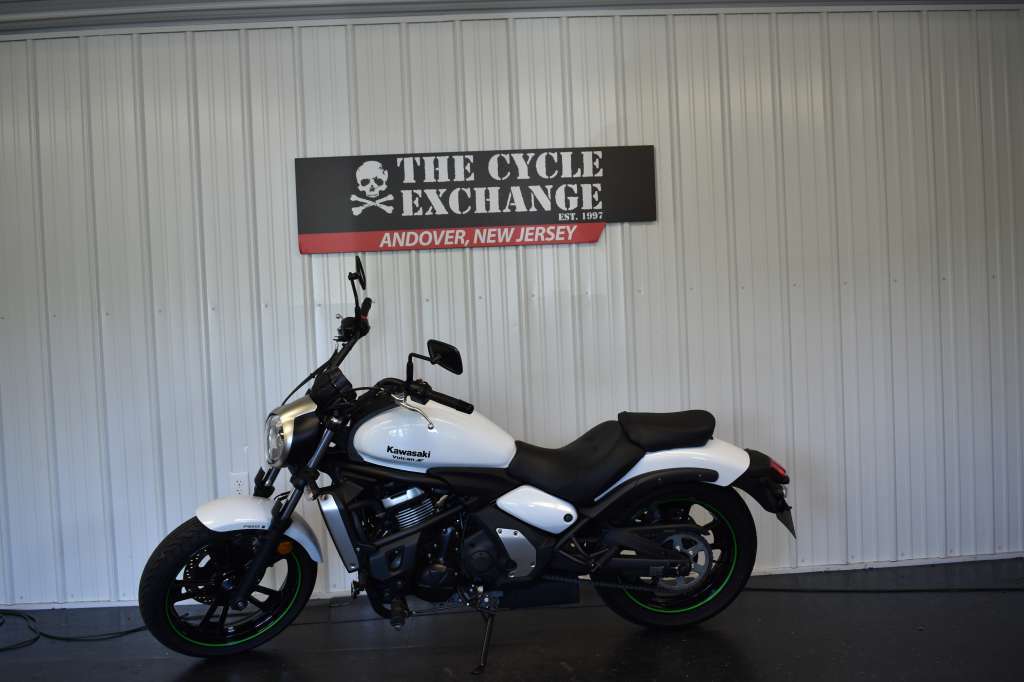 $5,999
Andover, New Jersey
Category -
Engine 649 cc
Posted Over 1 Month
2015 Kawasaki Vulcan S ABS, 2015 Kawasaki Vulcan S ABS - Bike is like new and includes ABS plus two-up seat with passenger pegs. Comes with 30-Day Unlimited Mile Powertrain Warranty and Wholesale Buyback Guarantee.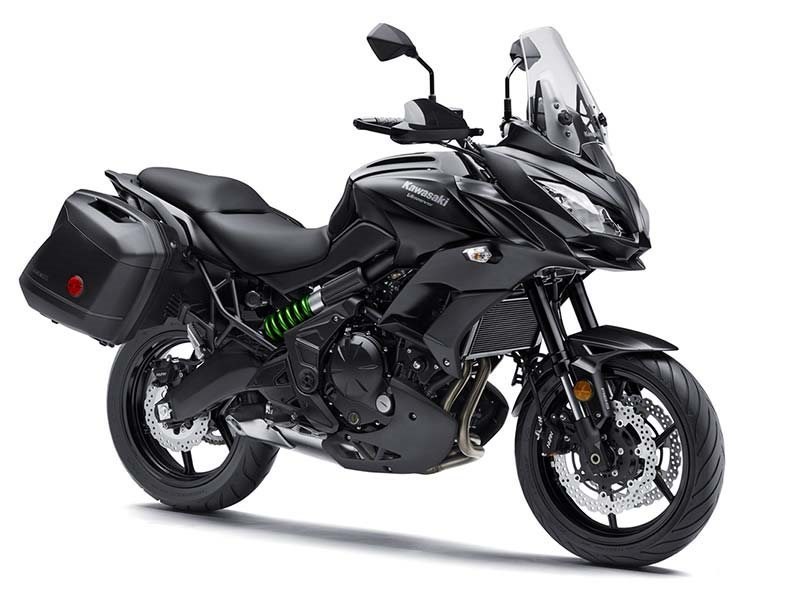 $7,799
Lockport, New York
Category -
Engine 649 cc cc
Posted Over 1 Month
Its combination of long-travel suspension, sporty 17 inch wheels, a slim upright riding position and a low-mid range focused parallel-twin engine result in a highly versatile package offering a confidence-inspiring ride while touring the open road. Compact 649 cc parallel-twin engine combines maximum low- and mid-range torque and high-rpm performance for an exhilarating ride Slim, upright riding position offers a high level of comfort and nimble handling Windscreen with 2 inches of tool-free adjustment adds comfort for highway cruising LT models come equipped with a set of color-matched 28 liter (each) hard saddlebags featuring Kawasaki Quick Release (KQR™) integrated mounting and a convenient one-key system that utilizes the ignition key for saddlebag unlocking and removal LT models offer hand guards for increased wind protection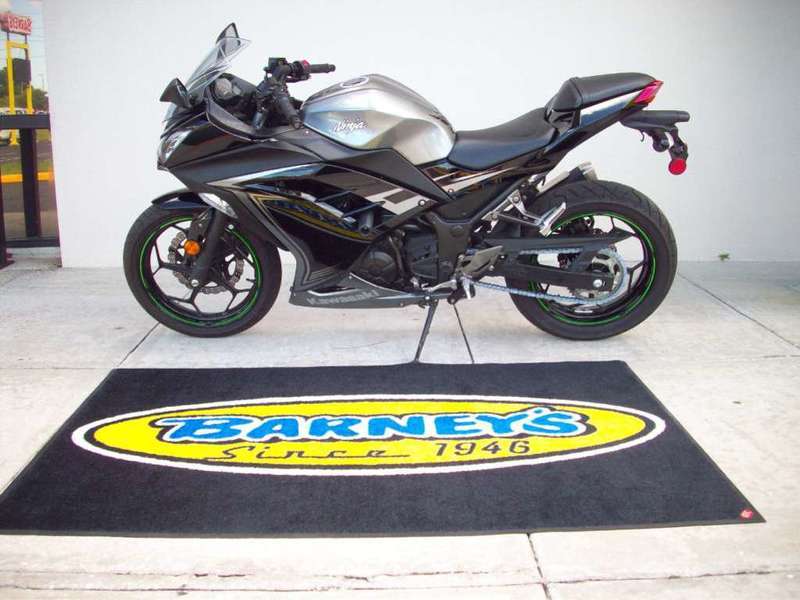 $4,499
Tampa, Florida
Category -
Engine -
Posted Over 1 Month
2015 Kawasaki Ninja 300 SE, Celebrating 70 years of proudly serving the powersports community . Barneys of Brandon.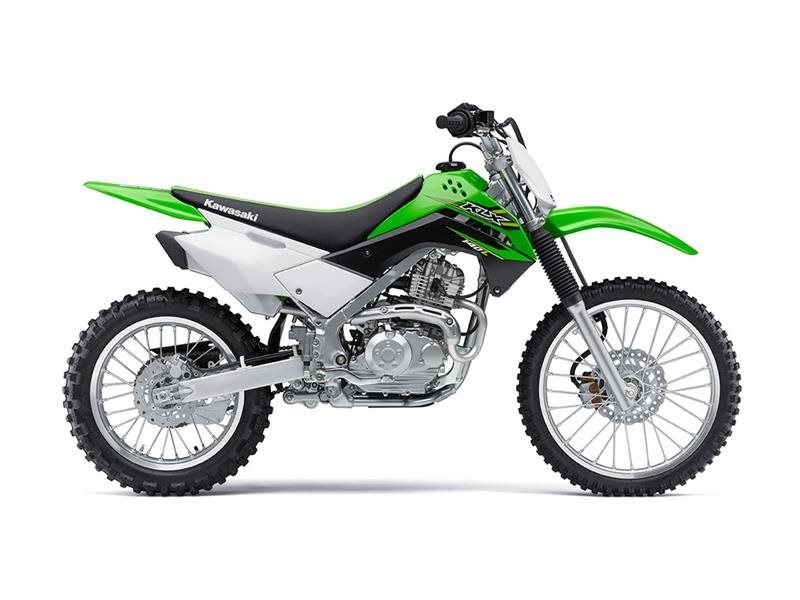 $3,399
Whittier, California
2017 Kawasaki KLX140L, In Stock, NOW - The KLX140L off-road motorcycle is the bigger brother to the KLX140 and provides a roomier riding position for taller riders. It features larger wheels and trail-oriented suspension that stands up to more demanding trail riding. Push button electric start High-revving 144 cc air-cooled, SOHC, four-stroke engine Five-speed transmission with manual clutch Taller (19F, 16R) wheels than the KX140 (17F, 14R) contribute to a taller 31.5 inch seat height and higher 10 inch ground clearance 7.1 inches of front and rear suspension travel to soak up bumps Front and rear disc brakes provide strong progressive stopping power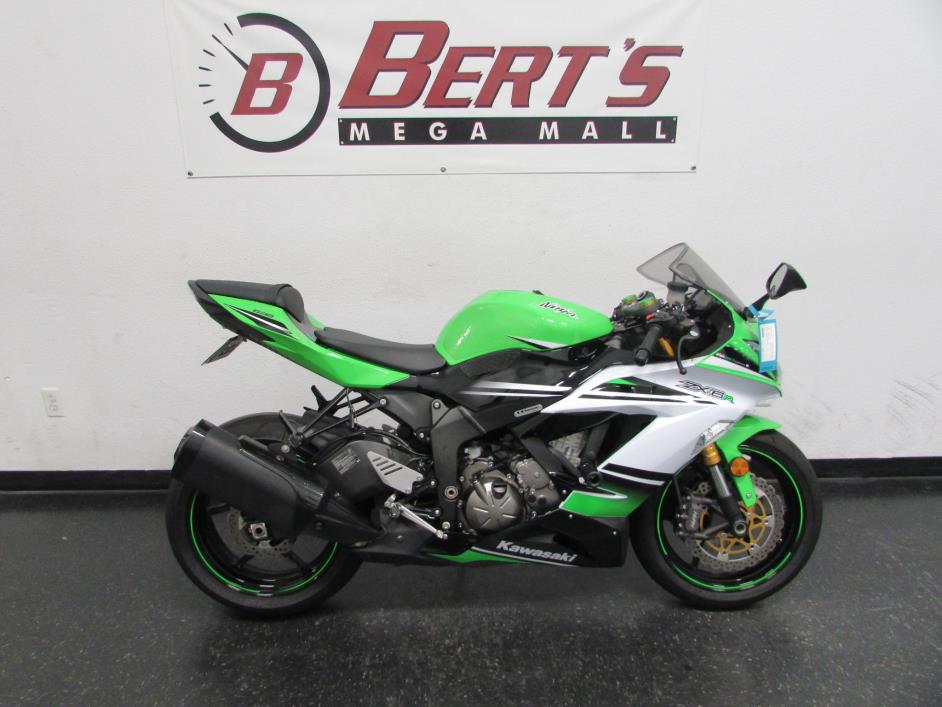 $10,695
Covina, California
Category -
Engine -
Posted Over 1 Month
2015 KAWASAKI Ninja - ZX -6R 30th Anniversary, Largest selection of used inventory & the world's largest powersports dealer! For the best pricing & financing call us today! WE WON'T BE BEAT!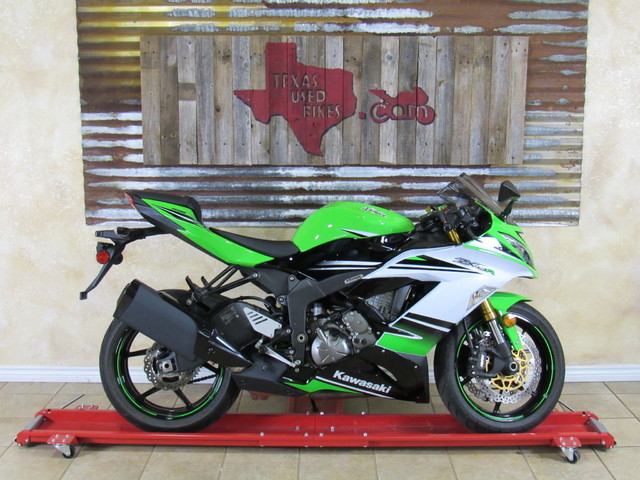 $10,499
Killeen, Texas
Category -
Engine -
Posted Over 1 Month
2015 KAWASAKI Ninja® ZX -6R 30th Anniversary, * Price shown excludes destination charges, optional accessories, applicable taxes, installation, setup and/or other dealer fees. Thirty years ago, the Kawasaki 600 Ninja literally invented the 600cc supersport segment, which today remains one of the benchmark performance classes in the world. Now for 2015, Kawasaki celebrates three decades of racing wins and championships with a very special 30th Anniversary Ninja® ZX -6R, the ultimate expression of the Ninja s Forever Fearless attitude in the middleweight sportbike class. Building on the current ZX-6R platform, the 2015 edition features exclusive styling touches that uniquely identify it as the powerful descendent of the motorcycle that truly started it all. Key Features Class-leading Supersport performance and styling deliver an abundant dose of street potency 636cc inline-four offers racetrack-ready power yet extremely flexible delivery on the street Selectable engine power modes allow riders to adjust power delivery to riding conditions Three-mode KTRC traction control puts the power to the pavement whether it s dry and grippy or rain-slick Showa Separate Function Fork - Big Piston (SFF-BP) offers light weight, easy adjustability and smoother initial suspension tracking Nissin one-piece monobloc radial-mount front brake calipers and radial-pump front brake master cylinder offer superb braking modulation with a direct feel at the lever F.C.C. clutch with assist function offers light clutch pull and strong clamping force for less clutch slippage under acceleration while slipper function minimizes wheel chatter caused by aggressive downshifting Aggressive styling and sharp, aerodynamic bodywork clearly shouts: Performance Counts! Lightweight twin-spar aluminum frame places the engine in the optimum position for superb handling and rider feedback and also features a 23.5-degree rake angle for quick steering response, maximum maneuverability and to deliver clear communication from the front tire Reduced friction steering stem seals for easy steering inputs and noticeably improved low speed handling 636cc Engine 636cc displacement uses a long stroke to boost engine performance throughout the rev range. Low-mid range torque is especially impressive, and provides satisfying real world performance Digital Fuel Injection (DFI®) system features four 38mm Keihin throttle bodies with oval sub-throttles and dual throttle valves for smooth response and maximum power Chromoly steel camshafts are light, strong and durable Piston crown enhances strength and accommodates the high valve lift 12.9:1 compression ratio is optimum for this engine s bore & stroke Molybdenum coating on piston skirts reduces friction and facilitates engine break-in Strong connecting rods suit the power delivery of this engine High-performance airbox design contributes to peak power and sm
$4,577
Eden Prairie, Minnesota
Category -
Engine -
Posted Over 1 Month
2009 Kawasaki Vulcan 900 Classic, For more pictures and video of this motorcycle and 100s of others, CLICK HERE to view the rest of our inventory! This motorcycle is Simply Certified: comes with a clean title and will receive a full 53-Point Inspection and oil change performed by our trained Technicians. Some inspections take 3-5 days or more so please call to confirm time frame. We do charge $199 per bike sold to help cover the cost of these inspections. This bike also comes with our Simply Certified 30 day / 1,000 mile, 100% Warranty! SSB also has great financing options, with payments starting at $100/month and up, as well as short term lay-away. We also take trades, buy outright and offer consignment! Out of state? Ask us about shipping to your door for only $499! As motorcycle enthusiasts just like you we at Simply Street Bikes love to ride, and our goal is to give you the Premier Motorcycle Experience. Call us today at 952-941-0774 or text us at 612-256-2179 to check out; 1) The largest selection of pre-owned motorcycles in Minnesota, 2) The best tire prices in town, or 3) While-U-Wait service on most makes and models - You will not be disappointed!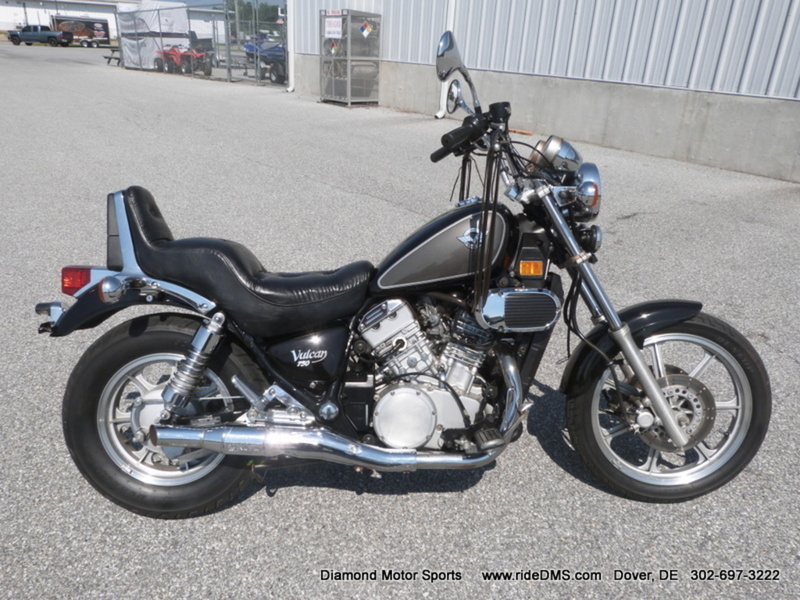 $2,295
Dover, Delaware
Category -
Engine -
Posted Over 1 Month
2001 Kawasaki Vulcan 750,
$5,000
Simi Valley, California
1984 Kawasaki Gpz 750, all original 1984 GPZ 750 just under 8000 original miles great condition must see runs great 5000 or best offer call or text 8052313740 $5,000.00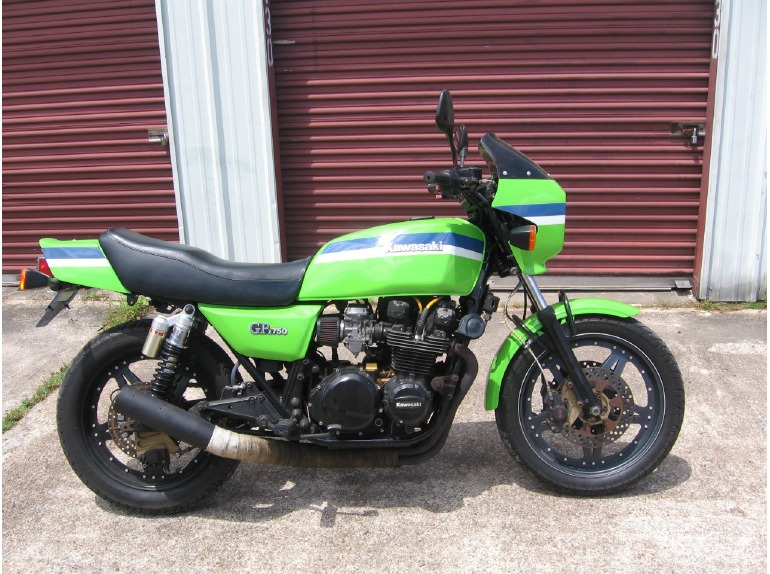 $3,750
Houston, Texas
1982 Kawasaki Gpz 750, For sale is a vintage racer turned everyday commuter. Offered is an 82 Kawasaki GPz 750 (aka R1) which some consider the pinnacle of the air cooled Kawasaki 750 sport bikes. Lots of trick parts and custom work to make this one unique ride. This racer parts includes an awesome sounding Bassani exhaust system with properly jetted carbs fitted with K&N oval pod filters. Also part of the racing kit are progressive fork springs, fork brace and set of KYB piggyback rear shocks (set for a 200 lb. rider), Brembo brake calipers (front & rear) on custom machined aircraft aluminum mounts with stainless steel brake lines. The ultralight magnesium wheels are original Astralites made in England that where made specifically for the bike. New battery, heavy duty clutch springs (internal metal and fiber plates still plenty of life) fork seals and fork oil, brake pads (Galfer Kevlars front and rear), speedo cable, front and rear tires and o-ring chain within last 1000 miles round out this ready to ride classic. This is not a museum piece, she is ready to ride with the perfect amount of patina from the glory days of air cooled Japanese muscle bikes. Turns heads everywhere she goes and fun to cruise. All lights work (including turn signals), as well as the dual Fiamm airhorns. Current license tags and inspection tags (Texas). I have a clear Texas vehicle title Not interested in trades or payment plans. CASH sale only. Completion Prospective buyers test rides ONLY with a $3750 CASH deposit (forfeited if any damage occurs during the test ride, regardless of cause). Ill be happy to start the bike and ride it for you to show you it runs and operates, as stated. As with any vehicle of this age, there are no warrantees, but you wont find a nicer or funner bike of this kind, locally. $3,750.00 7138052502
$3,995
Sylmar, California
Category -
Engine -
Posted Over 1 Month
1982 Kawasaki Gpz 750, Kawasaki GPZ 750 SHOWROOM Condition Very Low Miles No Dents, Dings, Scratches or Anything! All Original, Very Rare 1982 GPZ750 Best most Reliable Air Cooled Bike Kawasaki Ever Made! fun To Drive New Tires, Battery, Brakes, Extra Custom Seat and lots more! Call for more info. Perfect Price 3995 offer call cell or text 818-292-0266 Kz kz1000 zrx custom vintage gs honda yamaha $3,995.00 8189341776