Hayabusa 240 Wheel Motorcycles for sale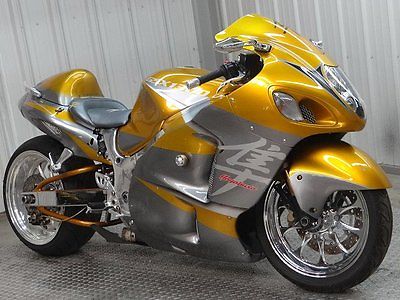 $5,899
Madisonville, Tennessee
TO SEE CLOSEUP PICTURES OF THE BIKE LISTED ABOVE PLEASE CLICK HERE TO SEE CLOSEUP PICTURES OF THE BIKE LISTED ABOVE PLEASE CLICK HERE BEFORE YOU GO ANY FURTHER PLEASE CLICK HERE TO READ ABOUT AUTOCYCLERS. AUTOCYCLERS IS A THRIVING MOTORCYCLE & PARTS BUSINESS LOCATED IN MADISONVILLE, TN. OUR GOAL IS TO PROVIDE LOW COST/HIGH QUALITY MOTORCYCLES AND PARTS AT LOW DISCOUNT PRICES. WE HAVE NOTHING TO HIDE FROM OUR CUSTOMERS. WE ARE AN HONEST BUSINESS THAT REALIZES OUR CUSTOMERS ARE THE MOST IMPORTANT INGREDIENT TO SUCCESS. THIS IS WHY WE THOROUGHLY INSPECT OUR BIKES BEFORE LISTING THEM ON EBAY. SINCE OUR BUYERS COME FROM ALL OTHER STATES OF THIS GREAT NATION AND EVEN FROM OTHER COUNTRIES TO BUY FROM US, OUR GOAL IS TO BE THEIR EARS & EYES. WE GO TO GREAT LENGTHS TO GIVE OUR BUYERS AS MUCH INFORMATION AS POSSIBLE TO HELP THEM TRUST AND BUY FROM US. THIS IS WHY EVERY YEAR WE GET LOTS OF REPEAT CUSTOMERS. YOU TOO WILL ENJOY THE AUTOCYCLERS EXPERIENCE. ONE MORE THING THAT WE REQUEST. IF YOU HAVE NEGATIVE OR ZERO FEEDBACK AND WANT TO BID ON THIS BIKE, PLEASE CONTACT ME BY EMAIL OR THE PHONE NUMBERS BELOW BEFORE OR JUST AFTER YOU BID TO CONFIRM THAT YOU ARE SERIOUS. IF I DON'T RECEIVE AN EMAIL OR CALL I WILL ASSUME THAT THE BIDDER IS NOT SERIOUS AND WILL THEREFORE CANCEL THE BID. ! TO SEE CLOSEUP PICTURES OF THE BIKE LISTED ABOVE PLEASE CLICK HERE MOTORCYCLE 2006 SUZUKI HAYABUSA GSXR 1300 DESCRIPTION This bike was in an accident and sustained damage which includes but may not be limited to: The upper bracket is slight bent back; the front fender is scratched; the fairings are scratched cracked & broken in various places; the rear wheel has a slight bent place; etc. the taillight lens is broken; the subframe is a little bent so the right bolt that holds it on won't screw all the way in; etc. The bike has an extended swingarm and a 240 rear wheel kit. MILEAGE 14488 actual miles. TITLE STATUS This bike comes with a GA certificate of title salvage so please check with your local Department of Motor Vehicle before buying. ENGINE CONDITION As you can see from the video the bike starts right up and rides great. (THE VIDEO IS AN MPEG FORMAT THAT PLAYS ON WINDOWS MEDIA PLAYER. IN ORDER TO WATCH THE VIDEO THE WINDOWS MEDIA PLAYER MUST BE INSTALLED AND ENABLED) CONTACT US Please look closely at the pictures and read the descriptions carefully before calling. Then if you still have questions please feel free to call 423-836-0969. You can also reach us at 423-420-6604 between 9AM and 4:00PM MONDAY THRU FRIDAY or 423-836-0985 thereafter. PLEASE DO NOT CALL THE 423-420-6604 NUMBER AFTER 4:30PM. Or feel free to email us at [email protected] TO SEE CLOSEUP PICTURES OF THE BIKE LISTED ABOVE PLEASE CLICK HERE SHIPPING QUOTE If you want to get an exact shipping quote, please call ALLIED at 800-747-4100 ext. 217. The bike can be picked up at our shop at Autocyclers 124 Hicks Drive Madisonville, TN 37354 SHIPPING TERMS *I will ship the bike but it will be up to the high bidder to pay all shipping and crating costs. I prefer to ship the bike using services such as KEYBOARD MOTORCYCLE SHIPPING because I don't have to crate the bike. It will possibly take 3 to 4 weeks for delivery if shipping is necessary. WE DO NOT OFFER CRATING FOR BIKES WE SELL. I live about 45 minutes south of Knoxville if high bidder would like to pick the bike up to save money. Bike must be picked up Monday thru Friday 9AM to 4PM as there will be no after hours or weekend pickups (no exceptions can be made). * If shipping is involved I will ship it with insurance but I cannot be responsible if the bike is damaged in shipping by the carrier. That is why I take out insurance on the bikes. I will guarantee my crating but I cannot be responsible for other people's mistakes. If a problem occurs due to shipping it is the high bidders responsibility to file the insurance claim with the shipper. However, I will support in any way I can help to get the claim settled. Also, if you want the bike to be shipped to your residence rather than a place of business, there will be extra charges. I'm sorry but I cannot ship to airports only businesses, and residences. If you don't want to pay the extra cost of shipping to a residence the bike will need to be picked up at the closest shipping terminal. INTERNATIONAL BUYERS *We do not offer international shipping. However, we sell to may exporters all over the world. *We will ship to US only. Please see SHIPPING TERMS above. *We will not write down a lower price than is paid for the bike. This is against the law so we can't make the price lower. HOURS OF OPERATION *MONDAY thru FRIDAY 9AM to 4:00PM *CLOSED ON SATURDAYS & SUNDAYS *CLOSED NO PICKUPS ALLOWED ON SATURDAYS OR SUNDAYS DISCLAIMER MOST OF OUR CYCLES COME FROM INSURANCE COMPANIES AND ARE DAMAGED. THIS IS THE REASON WE ARE ABLE TO OFFER THEM WAY BELOW RETAIL. WE HAVE TWO WAYS OF INFORMING YOU THE CUSTOMER OF THE DAMAGE. WE TAKE UPCLOSE PICTURES OF THE DAMAGE AND LIST THEM FOR EVERYONE TO SEE. AND WE ALSO LOOK THE BIKE OVER AND TRY TO LIST THE DAMAGE VERBALLY. HOWEVER, WE ARE ONLY HUMAN AND CANNOT POSSIBLY MENTION ALL THAT IS WRONG WITH THESE BIKES. SO PLEASE LOOK CLOSELY AT THE PICTURES AND IF YOU SEE SOMETHING YOU HAVE A QUESTION ABOUT PLEASE CALL US AT ONE OF THE NUMBERS LISTED ABOVE. WE ALWAYS TRY TO COVER THE BIG ASPECTS OF THE DAMAGE BUT IT IS IMPOSSIBLE TO LIST EVERYTHING SUCH AS RUSTED BOLTS & NUTS. WE ALSO CANNOT GUARANTEE FRAMES ARE STRAIGTHTHIS IS WHY I SHOW SO MANY PICTURES OF THE DAMAGE. WARRANTY *All sales are AS-IS with no warranty. *All Sales are FINAL. NO GUARANTEES *We do NOT guarantee batteries to be good or hold charge. *We do our best to check frames for damage or bends but we do not guarantee frames, wheels, forks, to be straight. *We do not guarantee engines & transmissions. PAYMENT *I prefer to do a cash deal in person but will accept cashier's checks, money orders, or bank to bank wire transfers. *ALL INTERNATIONAL MONEY TRANSACTIONS MUST BE A BANK TO BANK WIRE TRANSFER. *We do NOT accept personal checks. *I will not accept paypal as payment for any bike. However, we do accept a $200 deposit for the bike via paypal. *All deposits are non-refundable and are only good for 3 weeks. TAXES *If you are going to register the bike in the state of TN, a 7% sales tax + $44 state tax + $36 local tax will be paid to us by the buyer since we are a business. *If you are going to register the bike in any state other than TN, then we are not required to collect taxes. The buyer will be responsible for taxes in the state the bike is to be registered in. TERMS & CONDITIONS *I reserve the right to cancel bids and end the item early at any time. *Winning bidder must contact me within 48 hours after the end of the auction & payment in FULL must be received within 7 days after auction end (unless otherwise agreed upon by both parties) or the bike goes back on ebay. I will also pursue legal action if high bidder does not honor the bid. TO SEE CLOSEUP PICTURES OF THE BIKE LISTED ABOVE PLEASE CLICK HERE
Trim HAYABUSA BUSA GSXR 1300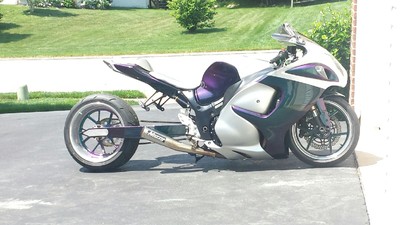 $8,200
Woodbridge, Virginia
Call/Text 678 595-0077 for more pics or questions I bought this bike bone stock with 6,000 miles on it and it has been regeared without a speeedo healer ever since. Because of that the miles read higher than what the bike actually has on it the true miles is close to 11,000. Color shifting paint (green, purple, blue, cayenne) 2012 GSXR1000 tail zx10 wheels RC 240 replica rear wheel 2012 BPF zx10 forks 2006 GSXR1000 triple trees Woodcraft clipons Full Muzzy exhaust Power commander EK ZZZ chain Halo light Demon eye light HIDs 45 tooth rear sprocket +10 - +14 rear swingarm Fully adjustable lowering links GSXR1000 front fender ZX14 front rotor Aftermarket mirrors GEL battery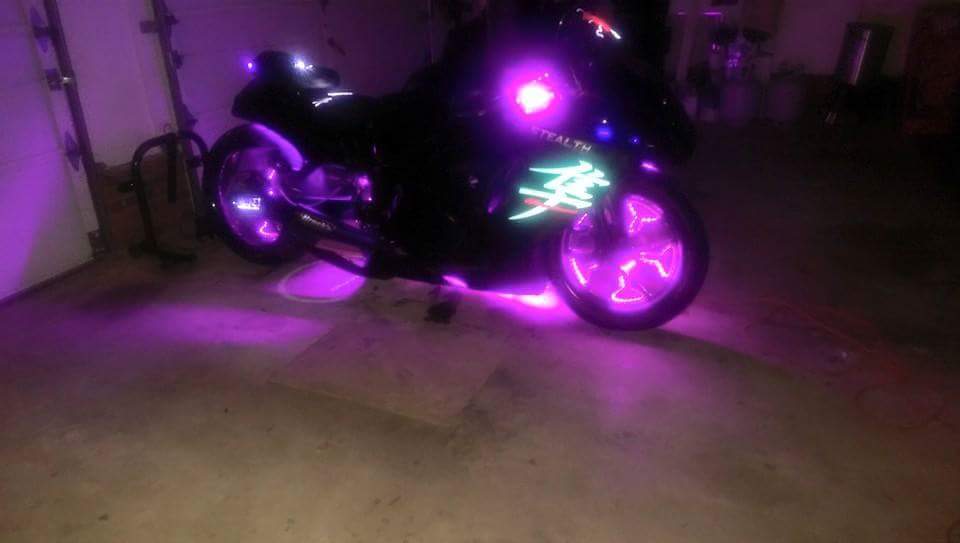 $8,000
Fayetteville, North Carolina
2008 Suzuki Hayabusa. Carbon fiber wrap. Brocks exhaust RC Component Rims and 240 kit ......Raw design wheel kit. Custom hand grips and brake and clutch lever. All stock fairing bolts have been replaced. Air ride with remote. Smoked out tailights/turn signals and tail light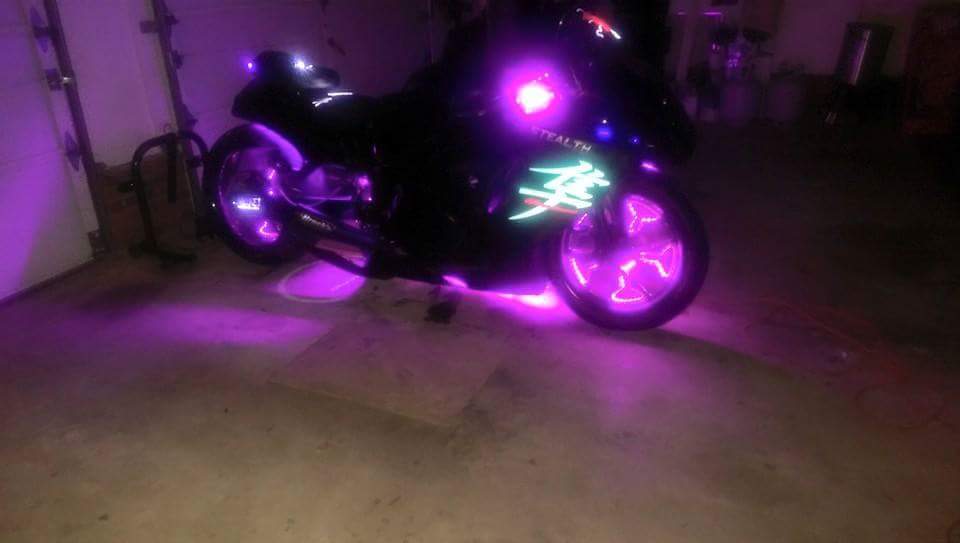 $8,000
Fayetteville, North Carolina
2008 Suzuki Hayabusa. Carbon fiber wrap. Brocks exhaust RC Component Rims and 240 kit ......Raw design wheel kit. Custom hand grips and brake and clutch lever. All stock fairing bolts have been replaced. Air ride with remote. Smoked out tailights/turn signals and tail light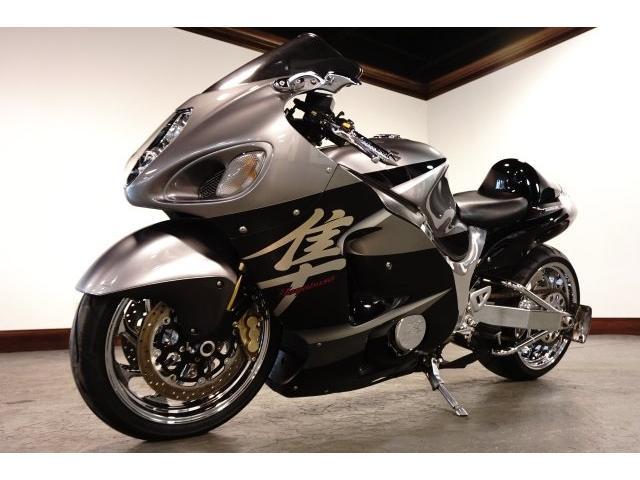 $9,000
Canton, Ohio
Custom stretched hayabusa. Only has 11,273miles. Yoshimura exhaust with 240 wheel and tire kit. PowerCommander, precision machine wheels, HID head light, blue LEDs, billet adjustable kick stand, lowered 2 inches, stretched 6-8 inches, all stock fairings that has never been laid down, tires are about 80% tread, ADULT OWNED, Absolutley NO TRADES AND NO PAYPAL. Financing is available!!!!!Ph: 330.323.1391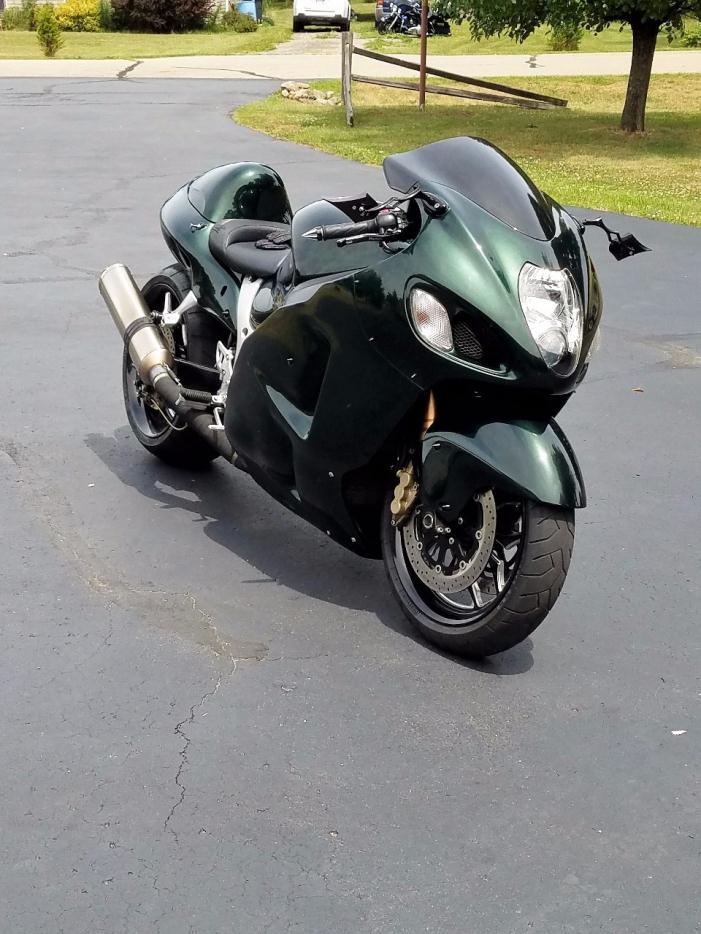 $8,750
Jackson, Michigan
1 adult driven 2006 Hayabusa 1300 for sale. this bike is well maintained and has not been abused at all. I work a ton of hours also have a 1 yr. old. this is why i am selling this sweet machine. items on the bike. 1) full 6 in. stretched braced Trac Dynamic swing arm. 2) One of kind thrasher wheels......240 wheel kit....Sweet! I may add in pristine condition with approx 3,000 miles on them ( black machined aluminum contrast). 3) Power commander 3. 4) NeW! trac Dynamic 2in. lowering slammerz kit ( front). 5) Brand NeW! Hyper rear coil from Trac Dynamics, I weigh 178 Lbs. good to 200 Lbs Max. 6) Soupy adjustable links so you can adjust as you need to by turning screws...(very efficient and simple). 7) New brake line i added to match color...things are not cheap! 8) cool little fairing spikes that match the bike theme. 9) Handle bar spikes, noted in the pictures ( NeW). 10) nice custom Lowering balck Hayabusa Triple tree ( NeW). 11) New rear tire with maybe 250 miles on it. taking small rides to ensure everything is sound with this machine. 12) custom Pant as emerald green theme as you see in the Pictures, beuatiful color looks awesome in the sun!!) 13) NeW custom clutch and front brake Levers...very nice touch. 14) NeWW custom glass Black Stator cover with Hayabusa machined emblems... sweet peice to add! ( look at the pics). 15) this Busa has a racing pipe, an Akropovic TI sinlge sided pipe. 16) also to add for the guy or gal that get this cool ride! 17) I have in the box a single sided Brock alien head (black) that i was going to have fabricated a Y Pipe so pipes and Power commander programs can run both style, street or track.....Never made it that far. the only item I am giving away at this point are quick racing stands, makes for easy tire removal and bike cleaning . New racing gloves. a pair of Joe rocket 10.0 racing boots ( NeW wore them 3 times) I did not like them feet are sensitive. and a Large Joe Rocket riding coat/ built in rain liner ( black). Any additional Info is needed you can contact me at .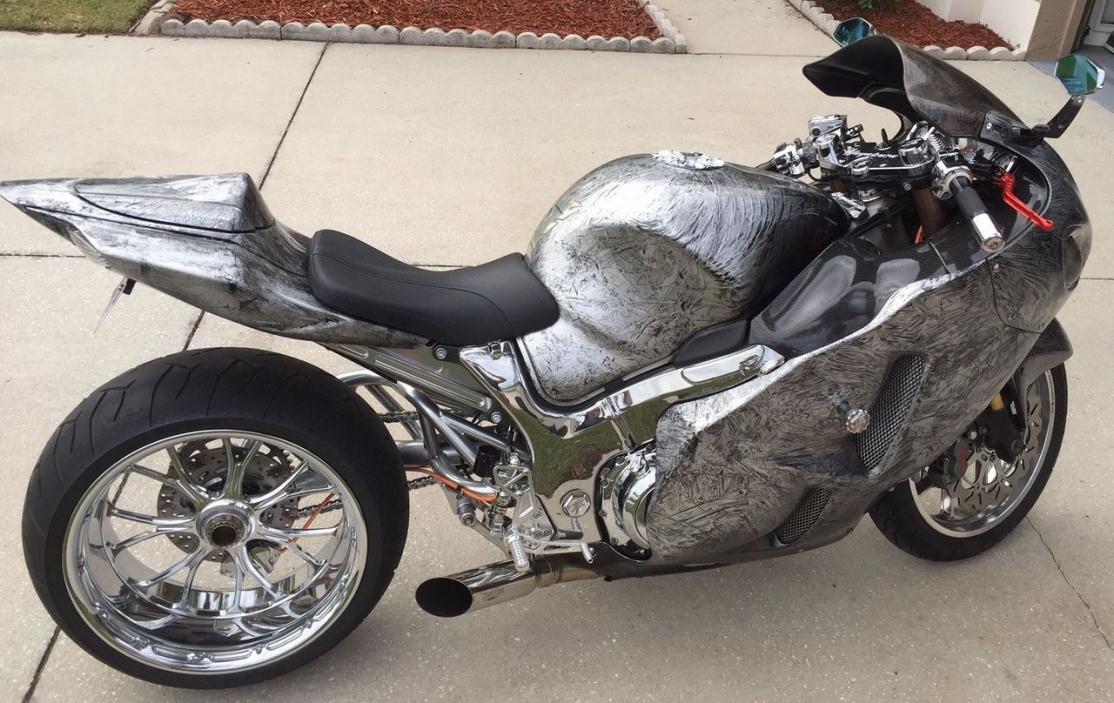 $5,999
Winnebago, Illinois
2003 Suzuki Hayabusa, Runs perfectly! include: custom paint job, gregg`s customs single sided 240 swingarm, performance machine chrome heathen 240 rear wheel, triple z chain, brembo brake calipers, galfer wave rotors, all chrome cockpit, corbin leather carbon fiber seat, platinum air suspension chrome air unit, voodoo shorty chrome 4 into 1 exhaust, carbon fiber. $5,999.00
$13,000
Milwaukee, Wisconsin
Up for sale is my wife's 2012 hayabusa turbo with 4,xxx miles. Reason we are selling it is I sold my race bike and my wife no longer wants to race without me. This bike runs flawlessly, and is extremely fun at the track or street. It made 217 rwhp on the dyno with a stock motor and 4psi of boost. It was tuned conservatively so it can and will remain a reliable bike that isn't going to blow up. Brian at WIN racing went through the bike, tuned and dyno'd it. Here's some of the parts I have put into it:RCC stage 1 turbo kitMcIntosh +6-10" swing arm with underbracing and built in air tank. That makes the bike 64-68 wheelbase, currently set for 10"Integrated rear tail lightCatalyst +6 rear tail with stock hump (can use stock passenger seat as well) painted to match oem paint using color rite done by a professional body guyMirror block offsAir shifter with air tank under the hump, and an auto pressure shut off switch wired in. Compressor is wired to ignition, and there is a switch for that as well as a switch that swaps the horn to be a shift button. HID headlights currently but the high beam ballast is not working. I have stock lights as wellPuig tinted double bubble windscreenSoupys 1" lowering block as well as lowering links for the rearI may be missing some things but that's most of it. The bike is in EXCELLENT condition. Come see how clean it is. I do have dump pipes for it if you would like to switch to that setup. With dumps you could probably see 240 hp at the rear wheel. Asking $13,000 OBO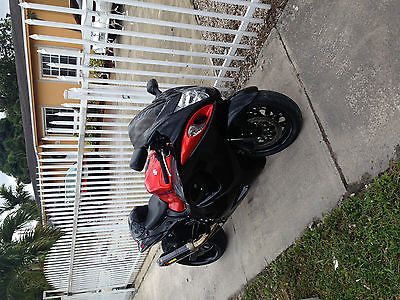 $10,000
Hollywood, Florida
FOR SALE BY OWNER - SERIOUS INQUIRIES ONLY 10,000 OBO 2008 SUZUKI HAYABUSA BLACK & ORANGE NEVER DROPPED OR LEFT OUTSIDE!!! AIR RIDE EQUIPPED 240 WHEEL KIT POWDER COATED RC PERFORMANCE WHEELS + SWING ARM POWER COMMANDER 3 CUSTOM DYNO TUNED WITH FULL AKRAPOVIC EXHAUST ALSO HAS CORBIN SEAT GREAT CONDITION AND READY FOR SALE NOW CALL TRAE @ 954 699 4998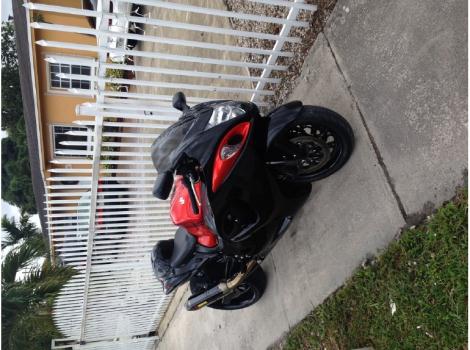 $10,000
Fort Lauderdale, Florida
2008 Suzuki Hayabusa LIMITED EDITION, FOR SALE BY OWNER - SERIOUS INQUIRIES ONLY 10,000 OBO 2008 SUZUKI HAYABUSA BLACK & ORANGE NEVER DROPPED OR LEFT OUTSIDE!!! AIR RIDE EQUIPPED 240 WHEEL KIT POWDER COATED RC PERFORMANCE WHEELS + SWING ARM POWER COMMANDER 3 CUSTOM DYNO TUNED WITH FULL AKRAPOVIC EXHAUST ALSO HAS CORBIN SEAT GREAT CONDITION AND READY FOR SALE NOW CALL TRAE @ 954 699 4998 $10,000.00 9546994998
Trim LIMITED EDITION
$12,000
Royersford, Pennsylvania
2011 Suzuki Hayabusa, Base price: 13,699 Color: Pearl Mirage White with gold trim Customization price: 7,000 1) 240 Rear Tire Kit a. closed end black satin arm b. retro wheel matching front c. black chain and brake line d. powder coated in black: real wheel 2) Yoshimura (TRC-D) Carbon dual pipes 3) PUIG windscreen (Black) 4) Powder coated in gloss black: Rear Set 5) Powder coated grills in gloss black: Fairing Holes (5) 6) Powder coated in black: front wheel 7) Eliminated Fender and Reflectors 8) Smoked signals including rear light $12,000.00
$9,500
Woodbridge, Virginia
2008 HayabusaClean/Clear title 8xxx miles Custom upper and lower gsxr1000 triple trees 2013 zx10 BPF forks 2013 zx10 front wheel 240 RC replica rear wheel 240 swingarm extended +9-13" 2012 gsxr1000 tail conversion Full Muzzy Exhaust Power Commander RC rear sprocket JT lightened front sprocket 530 ZZZ EK chain Fully adjustable lowering link Woodcraft clipons (handle bars) Fresh fluids change LED halo light HID head light And more.......Runs good and everything works as it should. For more pics or any questions call/text 678 595 0077
$25,000
Philadelphia, Pennsylvania
Category -
Engine -
Posted Over 1 Month
Motorcycle in great condition Red/Blue/chrome with a 2007front and 2008back, a hydraulic system, white strobe lights, red neon, remote alarm system and low jack system. A chrome eagle on front tire frame with eyes that light up. A chrome mirror back wheel with a 240 tire. Great bike to enter into custom shows to gain extra income. If you have questions, or whish to view the item contact Ken Mattox at 267-688-0836. Only accepting calls from interested buyers. No solicitations.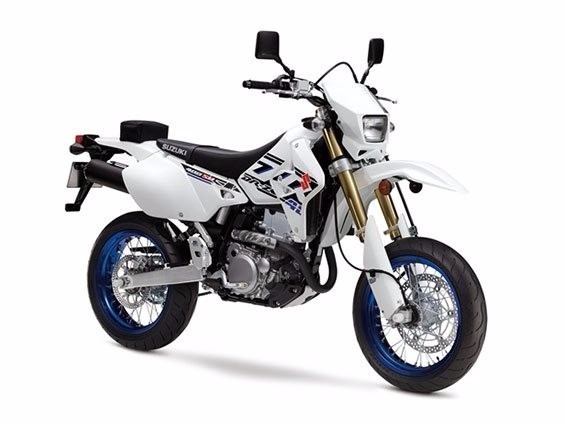 Request Price
Middletown, New Jersey
2017 DR-Z400SMSuzuki's SuperMoto DR-Z400SM is based on the proven DR-Z400S so it combines Supermotard style and features in a narrow, lightweight street-legal package. This bike brings off-road soul and fun to paved roads. It's not uncommon to take the SuperMoto down a twisty forest road, around tight canyon corners, or glide through commuter traffic. Its 398cc liquid-cooled, four-stroke engine provides strong low-rpm torque and crisp throttle response for any of these occasions. Key difference between the DR-Z400SM and the DR-Z400S are the inverted front fork, wide, spoke-style wheels, and 300mm diameter front brake disc. The inverted fork contributes to less unsprung weight and improved overall handling, while the large brake and wider rims with high-grip tires offer an exhilarating sportbike experience.Chassis FeaturesWide, blue-anodized RK Excel aluminum rims with stainless steel spokes are fitted with high-grip sportbike radial tires: 120/70-R17 front & 140/70-R17 rearStrong braking performance is supplied by a front disc brake with a large 300 mm floating-type rotor and dual-piston caliper, plus a 240 mm rear disc brake with single-piston caliperLong travel, SHOWA inverted front fork is derived from a RM250 and features adjustable compression / rebound damping and alumite coating on inner tube surfaces for smooth actionA fully adjustable rear shock absorber with high / low speed compression damping adjuster and a tapered RM-inspired aluminum swingarm combine for precise rear wheel controlRenthal tapered aluminum handlebar has an aggressive look, reduces vibration and has a great bend for spirited ridingChrome-moly steel frame tuned for Supermoto style riding is torsionally strong with minimal weight. The backbone tube, front down tube, and steering head gussets form the dry-sump engine oil tankA bolt-on aluminum sub-frame helps reduce weight, simplify maintenance and contributes to the trim rear fender appearanceFront and rear axle sliders help protect against damage in the case of a tip-overElectrical FeaturesCompact digital instrument cluster with speedometer, odometer, and twin-trip meters with addition / subtraction capability, clock and stopwatch functionsOn-road legal lighting with bright 60 / 55 watt halogen headlight, compact tail / stoplight, lightweight, rubber-mounted turn signals and hornElectrical systems, including the easy push button starter, powered by a compact 6.5 amp maintenance-free battery.Engine FeaturesLightweight 398 cc, DOHC, liquid-cooled, dry-sump engine produces strong, tractable powerCompact 4-valve cylinder head with 36 mm intake valves, 29 mm exhaust valves, narrow 28-degree included valve angle and shim-under-bucket valve adjustment systemSimple electric starting via a lightweight starter motor with an automatic mechanical decompression system.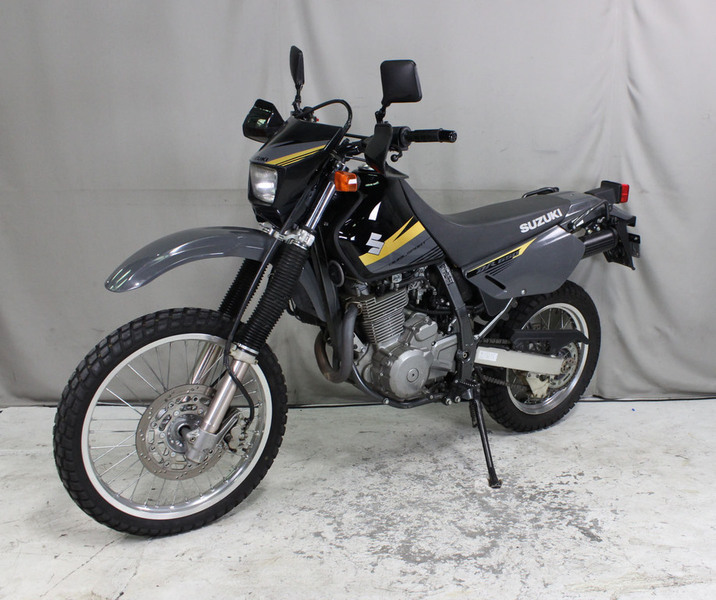 Request Price
Portland, Oregon
2016 Suzuki DR650S, Coming Soon! Very low mileage Suzuki DR650. 2016 Suzuki DR650S Traverse the terrain of your choice on the 2015 Suzuki DR650S. This dual-sport cycle is designed to conquer less than ideal conditions. The inverted cartridge front forks combine the best features of conventional and inverted designs to provide the smoothest riding experience possible, while the 645 cc engine gives you more than enough push to get up the hills or down the highways. Your riding conditions may change regularly, but the DR650S s performance won t. Features may include: The compact and powerful 644cc, SOHC, four-stroke, air & oil-cooled, engine features the Suzuki Advanced Cooling System (SACS). Piston-jet cooling and an engine oil cooler create consistent performance in a variety of conditions. The engine is tuned with an emphasis on performance in the low-to-mid RPM range, while a gear-driven counter balancer minimizes vibration for comfortable ride. Suzuki Composite Electrochemical Material (SCEM) coated aluminum cylinder is used for durability, light weight and excellent heat dissipation. Digitally mapped DC-CDI ignition system provides accurate ignition timing to maintain efficient combustion. A convenient electric starter (supplemented with a zero-maintenance automatic decompression system) provides easy, quick starting. Large MIKUNI 40mm (1.6 in) carburetor provides a smooth intake flow and quick throttle response. The stainless-steel exhaust system is light and corrosion-resistant, and is tuned specifically for strong low and midrange power. A smooth-shifting 5-speed transmission is complemented by a sealed O-ring drive chain. A lightweight, compact, rigid semi-double cradle frame provides agile handling on and off road Innovative, height-adjustable* front forks provide smooth and progressive action. Large diameter, thin-walled tubes reduce unsprung weight while maintaining high rigidity. A link-type rear suspension with piggyback-style aluminum-body shock absorber provides stable performance. The height adjustable* shock features adjustable spring preload and compression damping to personalize the suspension for rider, load and terrain. *Seat and suspension height is adjustable by your Suzuki Dealer using a Genuine Suzuki Accessory kit. Front and rear suspensions provides generous 260mm (10.2-inch) wheel travel for superb performance over rough terrain. Lightweight 290mm (11.4-inch) front floating disc brake with two-piston caliper and 240mm (9.4-inch) rear disc brake with two-piston caliper provide reliable stopping power. Aluminum rims with stainless steel spokes are standard equipment and are built for durability and