Bbr 110 Motorcycles for sale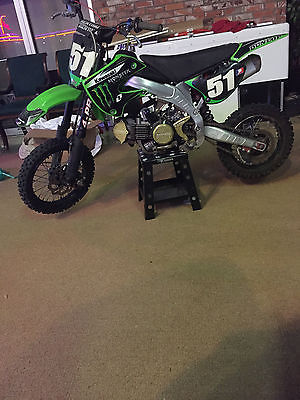 $4,000
Southlake, Texas
This is a gently used 2009 BBR Kawasaki 143cc Full Race Bike Built by BBR. It is in great used condition. **The Kickstart is currently missing in the photos, but I have a new BBR kickstart which will be put on upon purchase***. This bike is a 143cc Full Competition Spec Race bike It has the BBR V3 Perimeter Frame Kit with SuperComp Adjustable Swingarm Included with the bike is the Title from BBR along with the stand pictured This bike has literally everything you can do to a KLX110. I am selling it because I no longer ride it and have no use for it. Please ask any questions.
Trim 110

$2,100
Wytheville, Virginia
Category -
Engine -
Posted Over 1 Month
2006 CRF 120 BBR pitbike.aafter market BBR CamBBR stainless valvesport and polished headFull FMF Exhaust, (custom DG exhaust pictured)110 main jet with 38S pilot jet, runs flawlessBBR clutch Springs with EBC heavy Duty clutch platesAlumnium Extended shifterRenthal BarsFull BBR decal kitBBR Front shock SpringsDID gold Chain with anidozed black rear sprocket (50t) 14t FrontBrand New front and rear tiresMaxima Pro Racing FilterFresh oil Change Please let me know if you have any questions. Thanks for looking!This is the fastest CRF 100 out there. I would consider a trade on a KLX 110L model with clutch.
$4,250
Damascus, Pennsylvania
Category -
Engine -
Posted Over 1 Month
2 adult KLX 110L pit bikes.Both bought new 4/19/2013.One is a 2012 and the other is a 2013.Bikes have black powder coated rims, aftermarket pro circuit and yoshimura exhausts, air filters, jet kits, a headlight for night riding, aftermarket gear shifters, kx 65 Pirelli mx tires, these bikes are 4 speed and have a clutch on this model, and run approximately 45-50 mph. bikes are sold as is no warranty but in new condition with some scratches but over all new condition very low hours LOCAL PICK UP ONLY, no shipping is available, buyer must pick upcall with any questions: (772) 224-1483.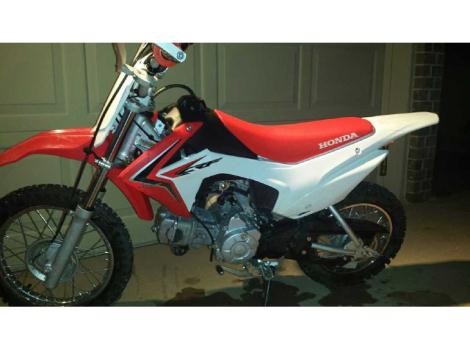 $1,750
Odessa, Texas
2014 Honda Crf 110F, Selling my sons CRF 110F. Bought it for him and he decided he would rather play xbox. His loss. Bike has maybe 5 hours on it. Starts first kick/button push. BBR handlebar kit installed. Tusk wrap around guards. $1,800.00
Trim 110F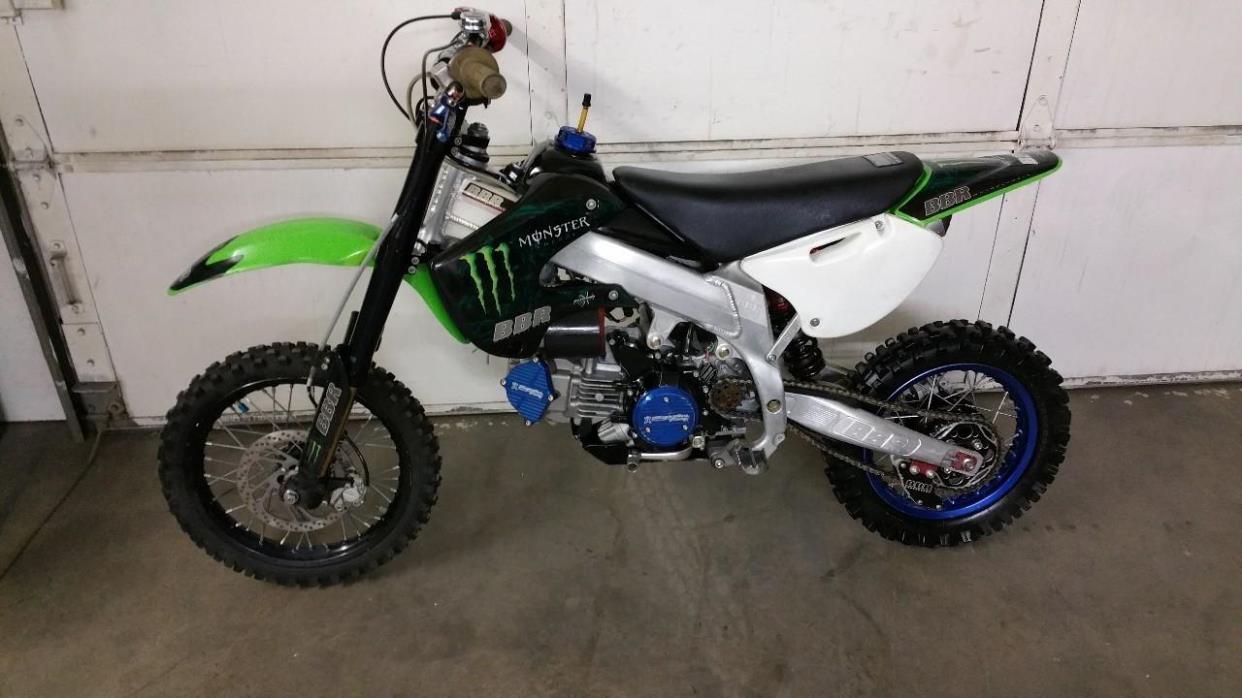 $4,000
Grand Forks, North Dakota
This bike is a 2006 BBR klx 160 based off of a klx 110. This bike has a bbr aluminum paramiter frame with bbr vin # . Here is a list of parts that make up this bike. Bbr frame, swing arm, disc brake systems front and rear, bbr wheel sets, elka rear shock, marzooki cashma coated shiver front forks valved for 175# pro rider . Bbr billet tripple clamps, pro tapor handle bars. Hydraulic clutch, bbr 160 big bore kit, large valve head. 28mm mikini carb. Bbr intake manifold, bbr wrap arround air intake. 4th gear shift drum. Upgraded clutch. Two brothers full racing exhaust, and engine covers. Bbr billet kick start, ims pro foot pegs and probably more than i am forgeting. There is 3 rides on a fresh top end with timing chain. Replaced just to keep things running strong. This is a works bike for the most part and is an absolute blast to ride . I am the seccond owner of this bike, and i have had it since 07. This bike is extremely reliable and starts on the first kick. I will include a box of spare parts also air,and oil filters . Call me with any questions that you may have. Thanks for looking.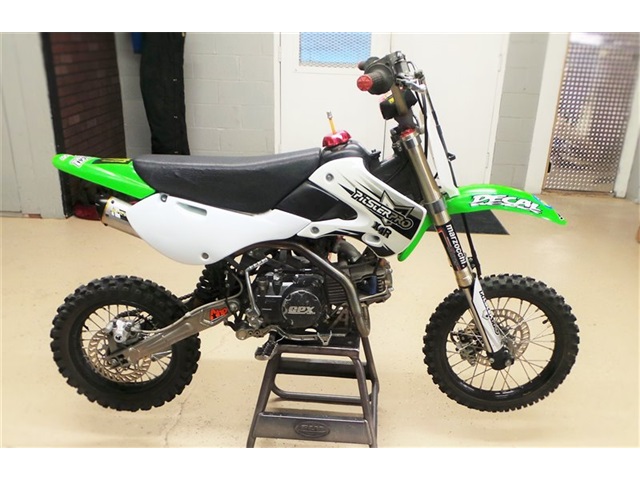 $2,199
Cheyenne, Wyoming
2007 Kawasaki KLX 110, 1. Completely rebuilt BBR performance engine, it is now a 155cc not 110cc 2. aftermarket exhaust muffler $500 3. complete new front (Marzocchi forks) and rear suspension (Elka remote reservoir rear shock) $1500.00 4. new seat $150 5. new handle bars and risers &250 6. new throttle assembly $90 7. new extended braided steel brake lines and clutch cable $165 8. new extended rear swing arm and drive chain $450 9. aftermarket brake pedal, shift lever, and foot pegs $195 10.new ignition $95 11. complete oversize wheel sets front and rear, $1000 12 extra set of wheels (front and rear) engine parts, accessories, two sets of extra plastics, lots of extra goodies. 13.tripple trees and oil cooler. The list of goodies are all for the parts installed on this bike, the prices listed do not include labor for install. Parts alone are worth $6600. No races or hours, built for fun but ready to race. Comes with a box of accessories as well.
$1,400
Fanwood, New Jersey
Category -
Engine -
Posted Over 1 Month
2006 Kawasaki KLX 110, BBR 140cc engine kit includes larger carb, manual clutch, oil cooler. BBR rear suspension. TTR front forks with FastMinis triple clamp. 8" suspension rear and front. $1400.00 908-377-0402.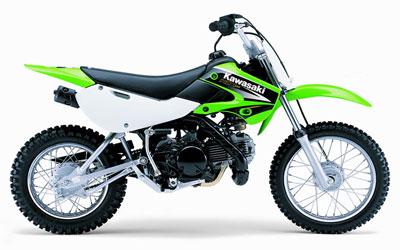 $1,895
Wilkes-Barre, Pennsylvania
Category -
Engine -
Posted Over 1 Month
PIT Bike, BBR Big Bore KIT, CAm, 26MM Carb, BBR Exhaust, 2 Bros Intake, Pirelli Tires, top of the line ( not a kids bike ) To those familiar with the KLX110 off-road motorcycle, it comes as no surprise that it's Kawasaki's number-one selling off-road motorcycle. With its durable four-stroke engine, sturdy yet lightweight chassis and KX-inspired graphics, the KLX110 appeals to kids who love its lime green color and easy-to-ride nature, and adults who find its "mini-thumper" performance irresistible. The KLX110 is powered by an 111 cc air-cooled, two-valve, four-stroke engine. This motor is the epitome of user-friendly and is even equipped with a screw-type throttle limiter mounted on the handlebar housing. This easily accessible feature means parents can control the power output with a simple turn of a screw. The engine's tractable power is delivered to the rear knobby via an easy-shifting, semi-automatic three-speed transmission, complete with centrifugal clutch. Newer riders gain confidence quickly by focusing on steering and balance instead of clutch coordination. The frame for the KLX110 is constructed from the same state-of-the-art high-tensile steel used on Kawasaki's full-size off-road machines, and its race-bred styling and graphics will undoubtedly please young motocross fans. The compact fuel tank, saddle, sporty shrouds, side covers, and number plate were all plucked from Kawasaki's smallest competition motocross machine, the popular KX65. And while it's primarily designed for trail riding, the KLX110 has become a favorite with adult riders who are modifying the KLX110 for "competition" at mini-motocross events held in backyards and arenas nationwide.
$900
Massillon, Ohio
Category -
Engine -
Posted Over 1 Month
2001 Kawasaki KLX 110 dirtbike: 143cc big bore. Centrifical clutch. 4th gear shift drum. BBR exhaust pipe. Two Brothers intake. Heavy duty I-Shock. BBR front fork springs. Renthal bars. New back tire. Runs great! $900.00
$2,650
Deer Park, Texas
Category -
Engine -
Posted Over 1 Month
2008 Kawasaki Klx 110, 2008 klx 110:-Magura Hydraulic Clutch -Kamikaze Racing Factory Kit (143 bore cylinder, 26mm carb and intake, Uni filter, and Race Cam) -Pitster Pro YX 150 Head -Ishock M1 A3 rear shock -Marzocchi 35mm Shiver w/ disc brake -Artrax front/rear tire (100% tread) -BBR Heavy Duty Peg mount -Sano Wide Platform Foot pegs -Pro Circuit T4 Exhaust -Vent Hose with red tip -CHP folding tip shift lever -Custom Over the top rear brake pedal -SDG tall seat foam -Sikk 110's +2 extended swing arm -BBR Chain Guide -Dress up kit (red) -Spark plug wire harness (red) ...Awesome pit bike, fun to ride, smooth throttle, ready to hit the dirt. It's collecting dust in my garage and I'd like to have money for a baby on the way. Will sacrifice for 2650. Any other details text 832.785.2979 $2,650.00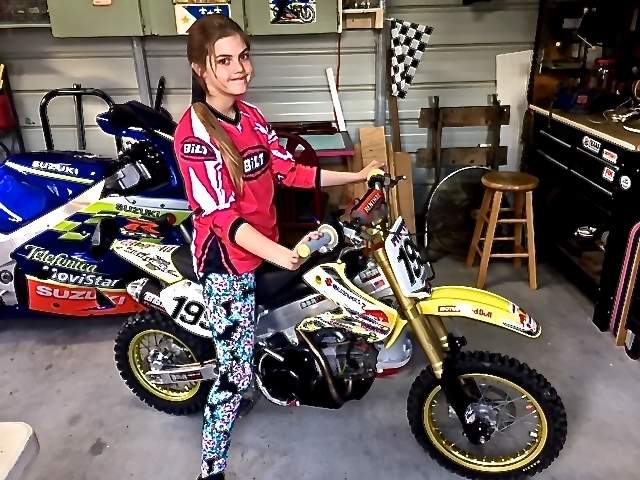 $3,950
Lafayette, Louisiana
I have one of Travis Pastrana's Pit Bikes for sale. This bike was built for him by BBR Motorsports and has a Suzuki Factory engine not available for the public. It has a four valve head and is very fast! Plus, all the best that BBR had to offer back in the day. Cost back then was about $13,000. Marchazzi Front end and Elka shock just rebuilt in California. The Bike is in Lafayette, Louisiana and can be easily shipped. Text or call 337-315-0829. Ready for you to do your own double back flip. I have videos on YouTube on my "BarryAir" channel.....or you can face time me and I will walk you around the bike, "live".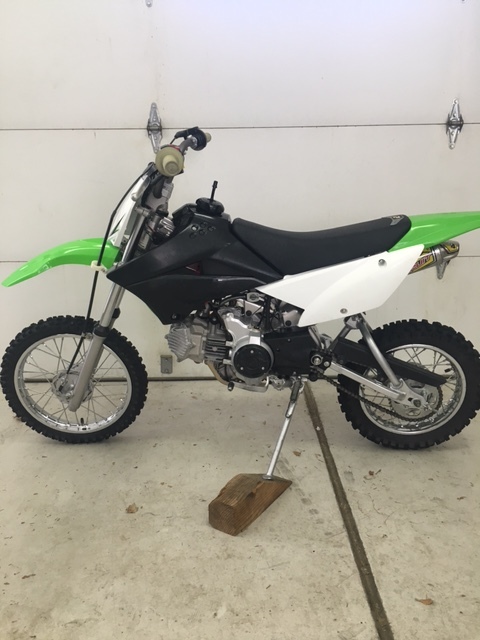 $1,799
Bakersfield, California
2010 KLX 110L, second owner. Comes stock with 4 gears and a clutch. More suspension than the original 110. Rejetted the bike after I put new parts on listed below. Runs very well, no issues, much more responsive and more power than stock. Very low hours on bike. All aftermarket parts are BRAND NEW, 0 hours. Serviced and cleaned the whole bike, including an oil change with a new oil filter. Contact Anthony at 661-809-9407 if interested. All stock parts included with purchase. Has green sticker until 2017. Pink slip in hand. This bike has been meticulously cleaned and cared for. Aftermarket parts include: 1. Pro Circuit T-4 full exhaust system ($280) 2. BBR U-Flow Air Intake with Uni air filter and L bracket ($145) 3. Pro Taper Mini SE (KLX 110 bend) bars- Platinum Grey ($70) 4. New tires front and rear ($90) 5. Renthal Grips ($15) &Gas tank tube ($15) **Must see to appreciate**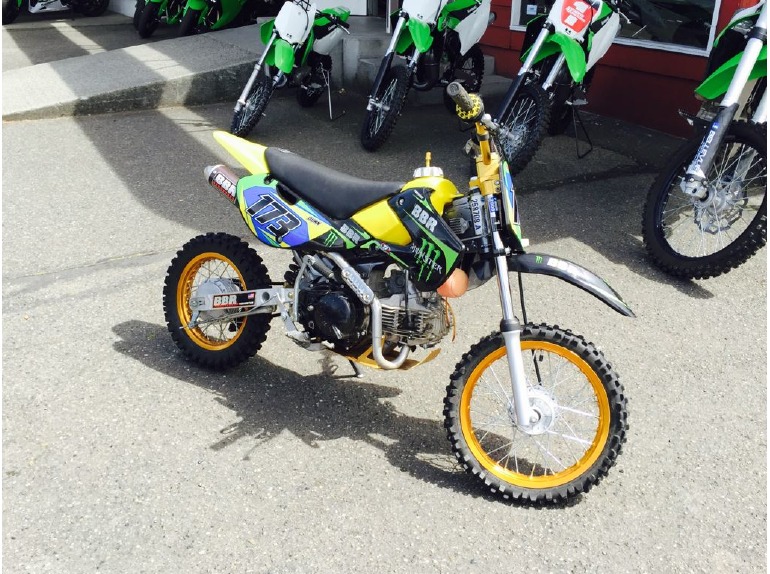 $1,999
Bellevue, Washington
2004 Suzuki DR-Z110, One trick Pit Bike. BBR 143cc kit, Swingarm,skid plate, heavy front springs. Lots of extras!!!! - Kids of all ages will love the 2004 DR-Z110. It combines a strong, reliable four-stroke powerplant with a compact, lightweight chassis to create the ultimate bike for entry-level riders and backyard racers. Powered by an 111cc air-cooled, two-valve, four-stroke single, the DR-Z110 caters to young riders just starting out. Parents monitor engine output via a screw-type handlebar-mounted throttle limiter, providing complete control with the simple turn of a screw. The easy-to-use motor transfers power cleanly through a semiautomatic three-speed gearbox and centrifugal clutch, allowing the young rider to focus on riding and balance instead of clutch coordination. The DR-Z110 is supported by a compact tensile-steel backbone frame. Its wheels comprise a 14-inch front and 12-inch rear, giving it the look of its larger DR-Z brothers. Suspension consists of long-travel, oil-damped fork in front and a five-way pre-load adjustable single rear shock. The result is a fine ride over a variety of off-road terrain. Stylish, RM-inspired Champion Yellow bodywork creates smooth lines, comfortable seating and maximum rider mobility in any kind of riding situation.
$3,500
Latrobe, Pennsylvania
Category -
Engine -
Posted Over 1 Month
2003 Suzuki DR-Z110, Fully built and fresh 177cc monster! - Don't confuse this with the knock off import no-name pitbikes. They aren't even in the same ball park as this machine. This thing is a monster and sounds/feels like a big bike. I don't need to sell the bike, but it needs a home where it can be ridden the way it should be. I just don't have the time any more. Would cost over $5,900 in parts alone to duplicate this build, not counting the stock bike. Most of the 177 motor build has less than 1 hour of time on it. New parts included genuine OEM bored Kawasaki cases, case bearings, TB 165 kit, TB stroker crank, OEM shift forks, and TB 4 speed shift drum. The previous motor build was healthy before the tear down, but I wanted to freshen things up and not cut any corners. -- Parts List $598 Genuine Takegawa +R Ported Head w/BBR Intake Manifold $75 TB Parts s35 Clone Cam (Installed) Takegawa S20 Cam (came with head) $165 TB Parts Stroker Crankshaft (177cc total with the 165cc kit) $194 TB Parts 165 Kit $170 Mikuni TM-28 Carb (on bench) $110 PWK28 Carb (installed) $135 Genuine OEM cases $45 Kitaco HD Cam Chain $13 Kitaco Magnetic drain plug OEM shift forks Fresh case bearings/seals/gaskets $230 FMF 4.1 SS Pipe $339 Takegawa Manual Clutch Cover $240 Takegawa 6 Disc Clutch and Primary Drive Kit $45 TB Parts 4 Speed Shift Drum $35 Sik110s Shift Star $249 CHP Billet Output shaft $60 CHP Quick Shift Shaft $80 BBR Rev Box $750 KX65 Front Forks/KX65 Front wheel and disc brake/Minibike Springs/Pax Clamps $50 Pro Taper 110 Bend Bars $99 Two Brothers Skid Plate $1,150 Two Brothers Gen 1/Race tech Long Travel Rear 8" Travel - Brand new chain slider $145 STR KX65 Rear Disc Adapter $200 KX65 Rear wheel and caliper $90 Two Bros over the top brake lever $76 Fastway Pegs $99 BBR Peg mount $95 Two Bros seat $125 Cat5 Cradle Mount $35 BBR Shifter $179 Two Bros Dress Up Kit $120 ASV Levers
$1,495
Manchester, New Hampshire
Category -
Engine -
Posted Over 1 Month
2006 KAWASAKI KLX110R, This bike has had pretty much every mod done to it possible. 144 big bore kit, BBR exhaust, taller seat, Renthal bars, upgraded 4 speed transmission, levers, foot pegs, gas cap and many other small extras. This bike is fully set up. lots of money spent on parts!