2007 Cr125 Motorcycles for sale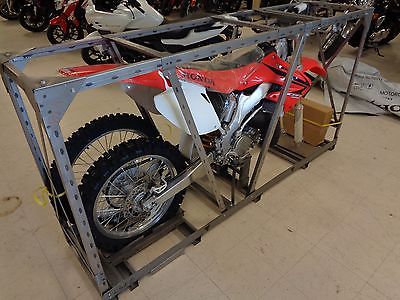 $7,000
Columbia, Connecticut
For Sale: New Still In Crate 2007 Honda CR125R.Vin Number: JH2JE01377M900306 Condition: This CR125R Is Brand New! Still In CRATE! History: This Bike Has Been In a Crate Since 2007 Shipping And Payment: We can arrange shipping any place in the usa at the buyers cost . The bike will not ship until payment clears and bike is paid in full . You are welcome to come check it out before you buy it, just call first . Thank you for viewing our auction! If you have any questions regarding this auction or cannot find what you are looking for please feel free to contact Kenny at 860-455-1233 and we will be glad to assist your call. We list new items every day so check back as often as possible! JB Bin: Sales Floor
Trim CR125R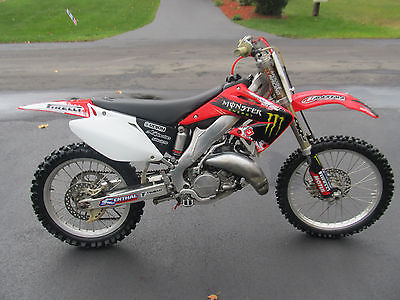 $2,500
Syracuse, New York
Pictures Just Taken a Week ago Have Not Rode It sense i took the pictures its a 2007 honda cr125r last year honda made the 2 stroke its adult owned the bike is set up right i always ran it with race fuel klotz oil but it will run with regular fuel & oil as well i just perfer race gas always ran it in every bike i have owned over the years i just rebuilt motor not even 5hr on it very powerful bike and fast no leaks well maintained like new tires and fork seals wheel bearings and brakes done a few months back it needs nothing at all it has wiseco racers choice piston and rings also has monster graphics - renthal handlebars - gripper seat cover - boyesen reeds - ims pro-series foot pegs - red tusk front and rear master cylinder reserve covers & red chain adjusters - sunline racing chain and sprockets & red clutch and throttle cables - fmf sst exhaust (has 2 dent's see pictures) and fmf shorty silencer & jetted correct to fmf specs - pr2 racing front fork springs and rear shock set up - works connection radiator guards - also come with stock fork springs and rear shock & full exhaust & full set of used black plastics with graphics on them bike is only gonna go up in value you will be very satisfied with it the only reason for selling it just upgraded to the 250 2 stroke bike is sold as is no warranty's no returns feel free to message me or call me if needed for more info and contact me for final payment agreement buyer is responsible for shipping or pickup balance to be paid in full with in 7 days or with cash in hand, certified bank check bike can be picked up after payment clears
Trim CR125R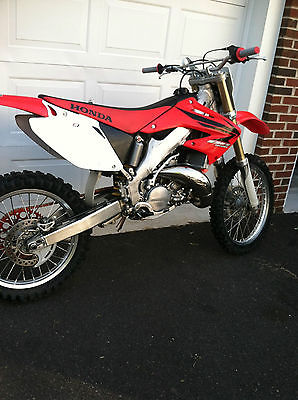 $2,799
Royersford, Pennsylvania
For sale is a very clean excellent+ condition 2007 Honda CR125R two stroke racing dirt bike meticulously maintained by myself!!! Low total hours-40 or less. Asking $2799 obo. Recently bored from 125cc(54mm) to 139cc(57mm) and ported for more torque/hp. Brand new red chain & sprockets-zero hours ride time. New Mototassinari Vforce3 reeds. New full FMF pipe(with dent-see pics) & shorti silencer(for more torque). I also have a longer FMF silencer(for more hp) that was only used once that I will sell for an additional $100 if interested. Clean/clear title plus manual included-buyer pays title transfer fees(if transfer is desired). This bike is very light & fast & has a suspension that rides & handles like a dream. Perfect for teenagers or smaller adults!!! A little background on why this bike is in great shape(besides me taking such good care of it) & it has vey low hours(approx. 30-40) for an older bike. I purchased this bike from Ray's Yamaha in 2012 for my 12 year old son. It was effectively brand new & never ridden. The original owner had an accident after he bought it & wasn't able to ride it so it sat in his garage(never ridden) for years before he finally decided to trade it in on a street bike. It has the original manual & a clean/clear title. The holidays are coming making this a great gift!!! Local pick up only, I will not ship. I will consider delivery if you live local & we can agree.
Trim CR125R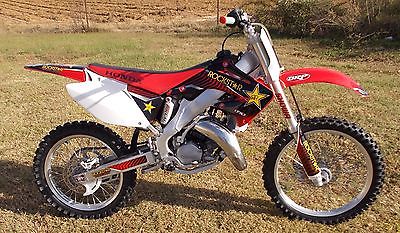 $2,950
Doerun, Georgia
Up for sale is a rare find..... a low-hour 2003 CR125R with all the goodies. These last-generation aluminum frame CR 2 smokers and the best and last Honda 2 stroke made and they represent the pinnacle of Honda 2 stroke performance and reliability. The turning and suspension characteristics are nothing short of stellar and the tried-and true engine has all the over-rev and roosting power you would expect....all that with predictable Honda workmanship, fit and finish. In addition to a clean and solid unmolested chassis, this particular bike features- - recent piston, rings, air filter and reeds (only the second top end counting the original) -properly jetted Mikuni carb for decent low-end grunt and outstanding rev potential -recent clutch kit -new chain, slider, guide, rollers and sprox -V-Force3 reeds and cage for even more power -recent tires and tubes front and rear -new plastics and graphics -new bars and bar pad -new control cables -recent fork seals and fork oil changed -fresh trans oil, brake fluid and engine coolant -new oversized radiators for additional cooling on those long hot rides -FMF expansion chamber and shorty silencer with fresh packing -wheel bearings checked and lubed -all steering and rear suspension linkage bearings cleaned, checked and lubed -new grips -Adjust-on-the-fly clutch perch with easy-pull lever geometry -new front and rear brake pads Check out all the fasteners and frame spars- this bike was only gently ridden and well-cared for before I bought it from the original owner. I then performed a thorough and detailed frame-up restoration; replacing worn parts, addressing any and all issues and servicing all components per the OEM Honda workshop manual. I DO NOT "FLIP" BIKES- I buy solid 2 strokes that have tons of potential and then, through many many hours of patience and dedication, bring this potential to light for a few lucky riders! Of course, you can buy a $1500 bike- there are plenty of them out there. THAT machine will not only leave you stranded on your first ride but later cost you hundreds and hundreds of dollars, countless hours of frustrated wrenching and time lost that you could be riding a bike bought from me.....knowing that your ride was built by someone who knows and loves 2 strokes. Simply put, I do what you would do- buy a bike that is already clean with low ride time and then go thru it bolt by bolt until it's almost perfect!! When perusing used bikes, you may notice that most of them are covered from bars to wheels in mud or still soaking wet from the only washing since the first Bush was President. I don't use mud, dirt, water or gallons of Armor All to disguise a bike's issues. My machines appear just as they really are- low-hour 2 smokers built with pride and knowledge. Customers constantly tell me that my bikes look even better in person- I guess that says it all!! Please note that this bike is listed in many local selling arenas. I reserve the right to end this listing early if it sells elsewhere. If you are interested in this machine, please call Vince 229 881 4080 for more details or to discuss arrangements. Don't let this one slip by- not since 2007 (the LAST year of new Honda 2 strokes) can you get a perfect, problem free smoker that will make you grin during every ride.....put away your wrenches and get ready to enjoy yourself for once!! Please see my Facebook page "Honda 2 Strokes" in Doerun, Ga. for work-in-progress pics of this machine as well as pics of other past, future and present projects....thanks for looking and BRAAAAAAAP ON!!
Trim CR125R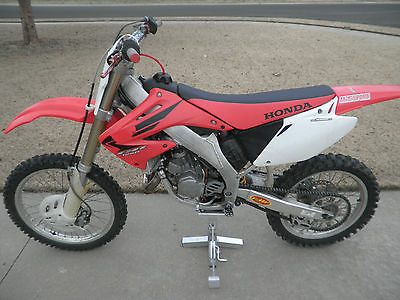 $1,900
Claremore, Oklahoma
All motor top bottom end work front forks and carb have been done by Honda dealer. Has FMF pipe VFORCE3 ASV clutch and brake lever. It has never been raced and well taken care of. Have clear title owners and service manuals. Pipe has dent and both radiators have dent on sides. Also needs new back tire. Has not been ridden since rebuild. Any questions or more pictures call 918-261-1983.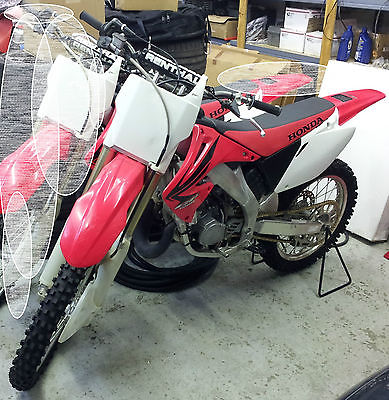 $4,500
Freeport, New York
2007 Honda CR125R The other CR in the picture is Brand New and listed for sale in another auction. It is not for sale in this auction. You are looking at a USED 2007 CR125R. I purchased this bike a few years back and never road it.The previous owner could not ride and kept fouling spark plugs. He used 3 gallons of fuel in the bike.I installed a JD Jetting jet kit and a new GB520MXZ4 Chain.This is a very rare find and willing to answer any question via telephone any day from 11am to 10pm estPlease call David with any questions @ 516-285-1103 The other CR in the picture is Brand New and listed for sale in another auction. It is not for sale in this auction. I will accept cash. Buyer responsible for vehicle pick-up.As when this CR125R was purchased at a dealer, it is being sold as-is without any warranty expressed or implied Thank you!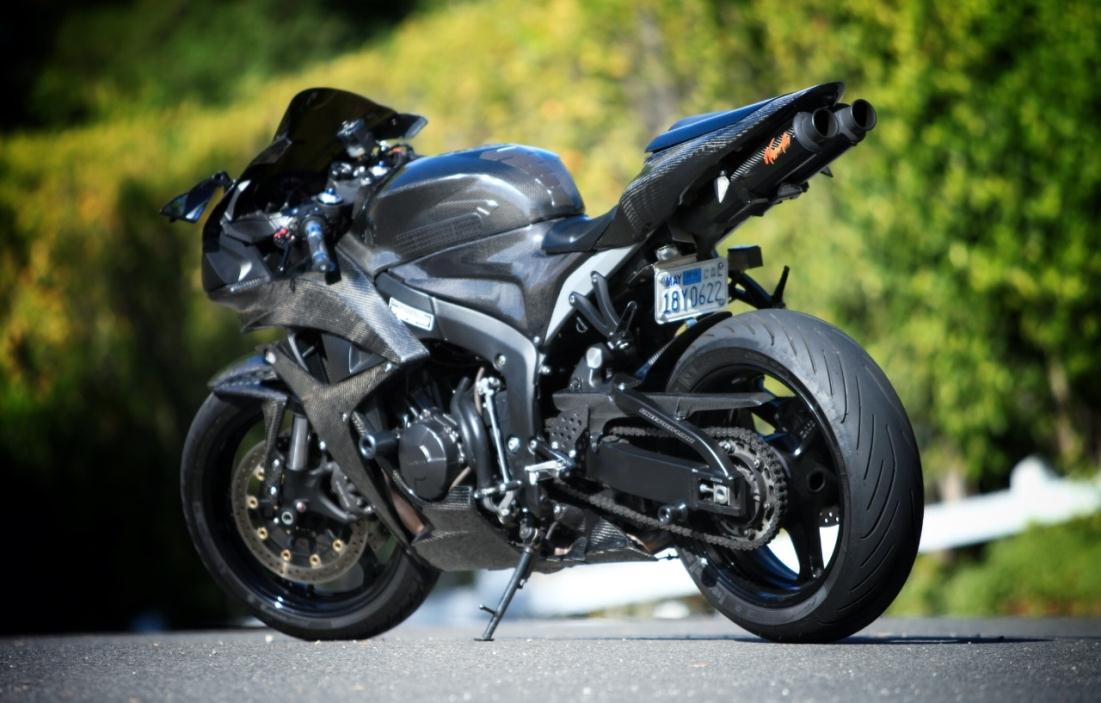 $6,000
Los Angeles, California
2007 Honda Cbr, Practically track and race worthy 2007 Cbr 600rr. Hyperflo dual exhaust. All fully custom carbon fiber fairings by crown Moto. Misc other custom touches under 24k miles. Always garaged and taken care of. Never been laid down or seen rain. $6,000.00 8182317371
$3,490
Springfield, Massachusetts
Category Scooters
Engine -
Posted Over 1 Month
There's no easier way to hit the open road than on a Silver Wing. Featuring a powerful, liquid-cooled 582 cc DOHC engine, fully automatic CVT transmission and two-up seating, it has all the luxury, comfort and sporting capability you could ask for. It's the embodiment of sport-touring excellence, in scooter form.
$1,799
Brainerd, Minnesota
2007 HONDA CR 125R,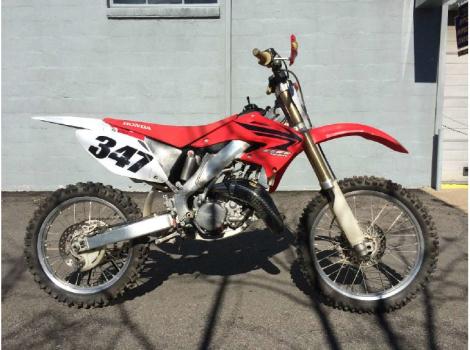 $3,899
Williamsport, Pennsylvania
Category Motocross Bikes
Engine Liquid-cooled, 1-cylinder, 2-stroke
Posted Over 1 Month
2007 Honda CR125R, The CR125R shares a lot with its CR250 big brother: Multiple championships, state-of-the-art tech and, best of all, the knowledge that it has no equals when it comes to 125 cc two-strokes. Could it be the mind-boggling power? The super-light weight? The tack-sharp handling? Or maybe all of the above? Why not throw your leg over one—and then decide for yourself.

$11,999
Portsmouth, Virginia
This listing is for a Honda 2007 CR 125R and a Honda 2007 CR 250R Both bikes are brand new and have just been removed from their original shipping crates and assembled. The bikes both have certificates of origin from American Honda Motor Co. Inc. They both are in pristine condition as they should be, no gimmicks, no stories, no disappointments, just as you would expect. Please contact Ron serious inquiries only at 757-567-8000. NO TRADES!
$2,495
Bettendorf, Iowa
Category -
Engine -
Posted Over 1 Month
2007 Honda CR125R, This CR125 is a 2 stroke, water cooled motocrosser. This is the last year of the two stroke!! It has been checked out by our service department and is ready to go. We installed new fork seals and a new drive chain. Call 563-359-7222 for more info.
$2,980
Asheboro, North Carolina
Category -
Engine -
Posted Over 1 Month
Absolutely Like Brand New! You Won't Believe It! This local owned CR125R is simply like new. Bought new here at the Cycle Center and traded in recently for a street bike. Less than 10 total hours on this beauty. Needs nothing, ready to ride! See it today only at the Cycle Center in Asheboro! Call today 336-629-2092!
$1,875
Loch Raven, Maryland
Category -
Engine -
Posted Over 1 Month
2004 Husqvarna Cr 125, 2004 Husqvarna CR125. This bike was the choice of several World Championship Off-road titles. The WR woods version was not preferred and the CR was used by the factory team. This would be perfect for woods riding/racing, motocross, or general fun. At 33hp and only 200lbs, it's one of the lightest bikes made. Husky stopped importing 2-strokes in 2004, only to promote their 4-strokes. If you do a simple Google search, you'll see guys wanted this bike over the 250 4-stroke for power to weight and performance. With the Husky, the brakes, suspension, carburetor, rims/hubs, reed valves, pipe, foot pegs, handlebars, etc. are all better spec'd than the Japanese dirt bikes (Honda, Suzuki, Yamaha, Kawasaki). I am the original owner with all of the paperwork, which I bought in 2005. I rode it very little for 2 years (placed 7th in an A Open Class Hare scrambles race) and then in 2007 stopped riding. Since then I've been on it about a dozen times. It still runs as awesome as it did when I brought it home. Everything is in great shape (tires and chain/sprockets, graphics, etc). I'm a 43 year old medical professional who has always taken great care of the bike with synthetic oil, fully cleaned it, drained/replaced the oil, cleaned the air filter, and drained the carburetor, after every ride...and documented every setting (jetting/suspension) change. The bike is very easy to maintain and always starts on the 1st kick. For someone new to riding, or an experienced racer, this bike is amazing, easy to care for..and I'm sad to see it go. For a mountain biker who wants to get into riding dirtbikes, this is the bike. It feels like a downhill mountain bike. Please contact me directly at four-four three, 244-5376 $1,925.00 4432445376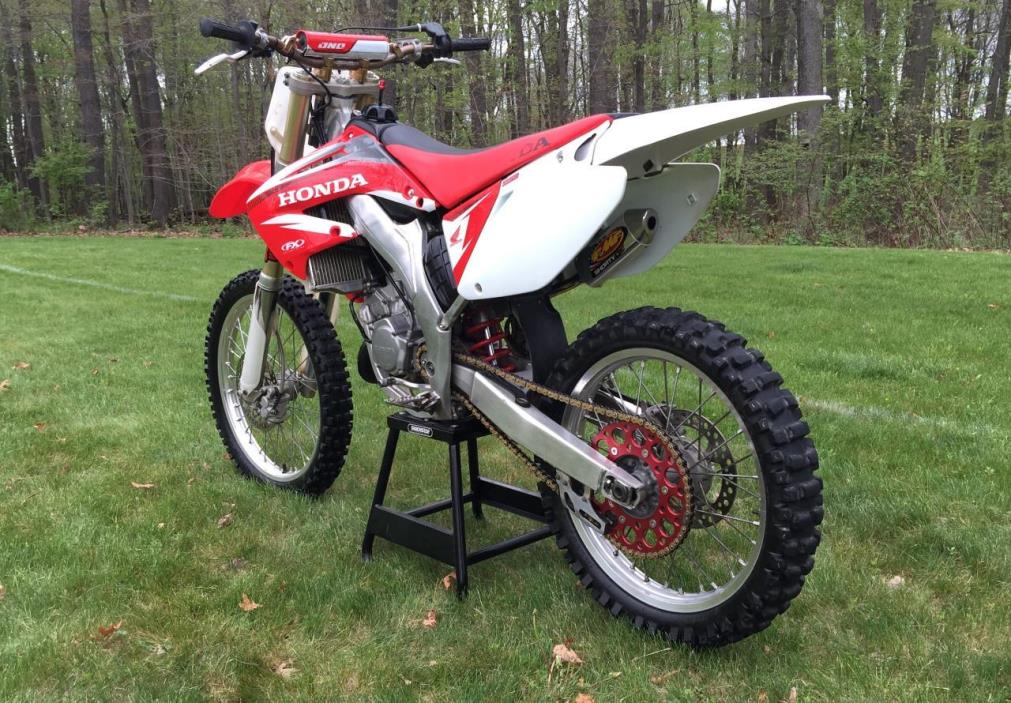 $3,600
Cabot, Pennsylvania
Category -
Engine 125 cc
Posted Over 1 Month
2007 is the last yeat Honda made 2-strokes, making this a rare find. The bike is clean adn engine is stock. The top end was recently rebuilt with OEM parts. It has never been raced. Some aftermarket items include new number plates and white rear fender, FMF shorty silencer, Renthal front and rear sprockets with gold chain, and new graphics. Air filter and oil changed regularly. It is a great bike and just fun to ride. If interested call or text me at 724-996-6632. NO SCAMS