1985 Yamaha Rz350 Motorcycles for sale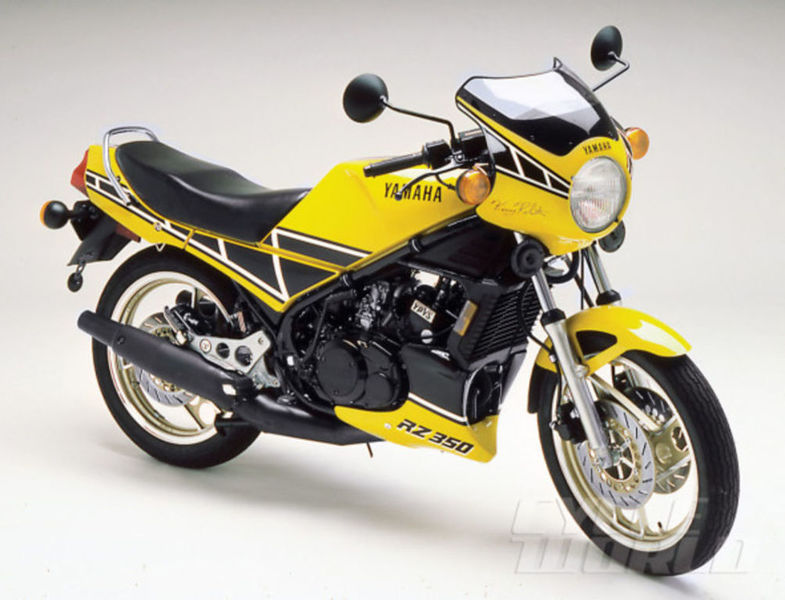 $4,999
Countryside, Illinois
1985 Yamaha RZ 350, The last two stroke street bike available in the US. Very Rare! Come take a look or call 708-588-9900 for more info.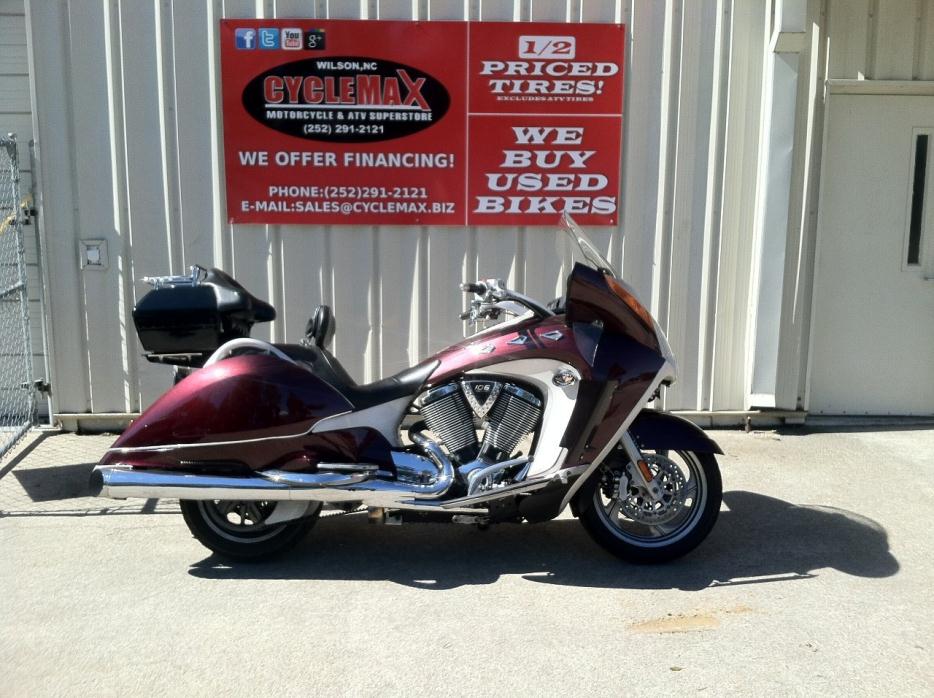 $10,600
Wilson, North Carolina
Category Touring Motorcycles
Engine -
Posted Over 1 Month
We have financing options available!
$2,895
Vallejo, California
Category -
Engine -
Posted Over 1 Month
1985 YAMAHA RZ350,
$2,895
Vallejo, California
Category -
Engine -
Posted Over 1 Month
1985 YAMAHA RZ350,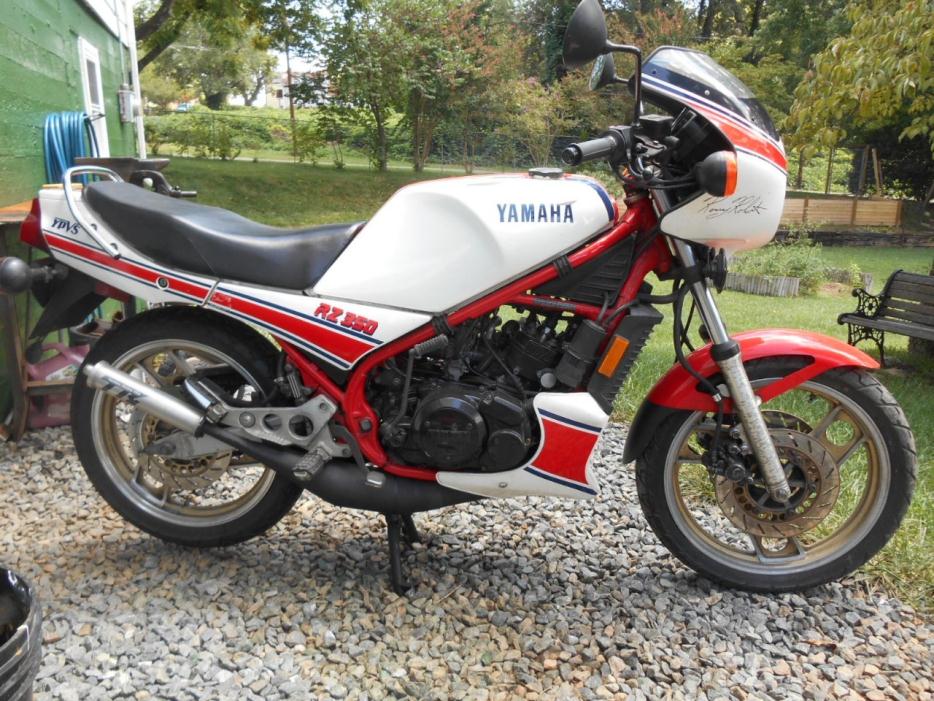 $5,600
Winston-Salem, North Carolina
1985 Yamaha Rz350, for sale is my 1985 Yamaha RZ350. bike is clean, original. it has the Toomey expansion chambers, k&n filter, and jet kit as far as mods, but thats it. never raced. never laid down. there is one blemish in tank from something falling into bike at the previous owners' shop. 14,796 miles on bike .original motor.this is a scarily fast bike, no joyrides, or trades. clean NC title. $5,600.00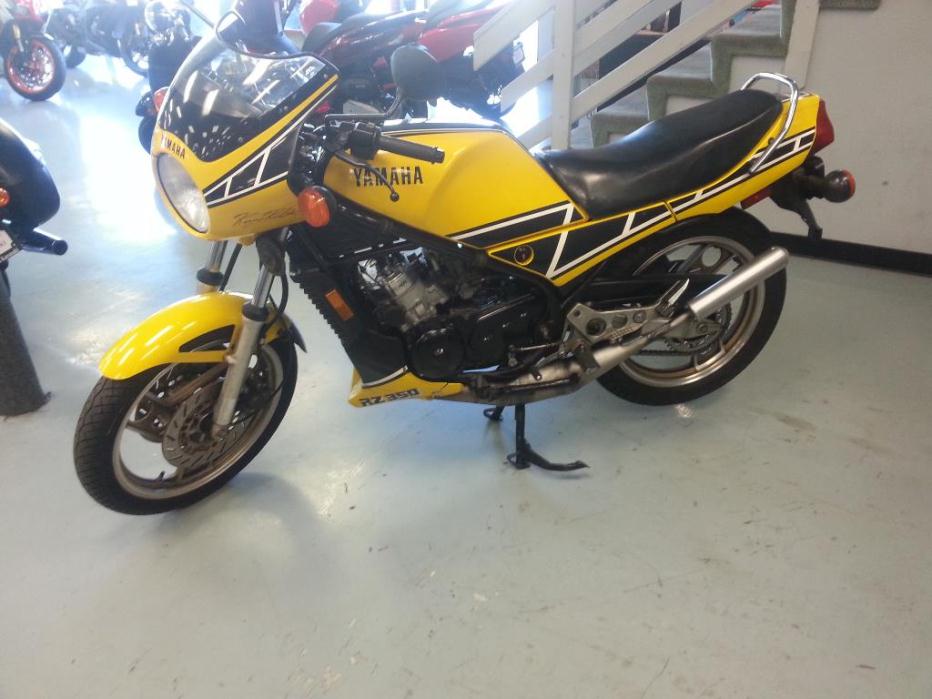 $7,500
Orange, California
1985 Yamaha RZ 350, YOU ARE LOOKING AT A HARD TO FIND LIMITED KENNY ROBERT EDITION RZ 350!!!!! - (RD350LCII) (liquid cooled) is a motorcycle powered by a twin-cylinder two-stroke engine, reed valved 347 cc engine. The bore and stroke are 64 mm × 54 mm (2.5 in × 2.1 in). Coming out in 1983, it was the evolution of Yamaha's popular and well known RD350 (1972?75) and RD350LC (1980?86). Production was carried on into the 1990s and a different version with no YPVS power valve in the engine was used in Yamaha's Banshee ATV until its final model year in 2006 in the United States. Yamaha Motor sold the Banshee in Canada until 2008. There were several other models, the 1985 RZ350F, 1986-92 RZ350F2,N,NF, and the 1992-5 RZ350RR was produced in Brazil. The picture shown to the right is a model with an aftermarket, "Expansion Chamber" higher flowing, high-performance exhaust system, devoid of the catalytic converter and other exhaust pollution control items. RZ350 is now a sought after collectors motorcycle in America,[citation needed] as it was sold exclusively in the USA as a signature model. It is also raced extensively in Vintage racing leagues, as well as its own racing leagues, often dubbed "RZ cups" in Europe.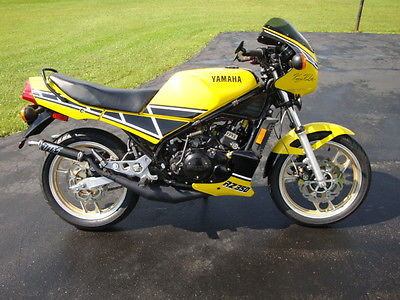 $6,500
Port Crane, New York
Very nice 1985 RZ350, here's what's been done. Powder CoatingFrameTriple tree and bar clampsBrake calipers and caliper bracketsSprocket hub (cush drive)Clutch perchRear brake leverRear grab handleSwingarm (silver)Fork tube lowers refinished and powder coated (clear)Foot peg brackets refinished and powder coated (clear) New PartsHandle bars (NOS)Oil tank (NOS)Wave rotorsBrake padsCaliper seals (all)GripsBar end mirrorsWicked ATV billet fuel capWicked ATV billet power valve couplerAvon Roadrider tires (less than 100 miles)Forks rebuilt with all new bushings, seals and dust covers (all NOS parts)Clutch cable Throttle cableChain and sprocketsToomey Racing pipes (ceramic coated) with carbon fiber silencers, aluminum battery box and UNI air cleaner setupV Force 4 reedsSeat foam and cover Bike has also been professionally painted in 2014 with decals from RDdecals.com, tank decals cleared over just like the originals. Top end rebuilt in 2014 (less than 500 miles since rebuild) with ProX pistions, NOS Yamaha gaskets and Wicked ATV power valve seals. Most fasteners have been replaced with stainless steel, I'm including the stock parts I have with the auction (last picture). I'm sure I'm forgetting something so please look closely at the pictures and ask all questions before bidding. $250 deposit via PayPal due within 24 hours of auction close. I do not offer shipping but I'm willing to work with your shipping agent after full payment. Private seller, sorry no trades.
Trim Kenny Roberts Edition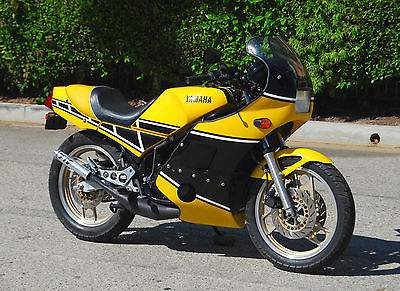 $6,900
Santa Monica, California
Category Sport Bikes
Engine 350
Posted Over 1 Month
Superb, Fast & Great Fun!! 1985 Yamaha RD350LC YPVS Frame number: JYA1EL009FA000780 Engine number: 1EL 000780 Yamaha have a long tradition of building notably sporting two-strokes, some of their all-time greats being the RD250 and RD350 ranges so beloved of 'seventies street-racers. Introduced in 1983, the RD350LC was the evolution of Yamaha's RD350 of 1972 to 75 production. Built between 1980 and 1986, the second series RD sported a liquid cooled, 347cc reed valved 2-stroke engine and was a genuine 120 mph road-smoker, equipped with the 'Yamaha Power Valve System'. The YPVS was a variable exhaust port valve that was controlled by a basic computer. The YPVS could open and close the valve to move the height of the exhaust port and thus affect the exhaust port timing. This provided lower RPM torque while retaining high RPM power. In the USA, the RZ came with catalytic converters for emissions requirements, and was the first motorcycle to do so. It was only sold in California in 1985, as the RZ350NC, and had an EVAP canister and an additional catalytic converter in the exhaust pipe header to meet California emission regulations. The RZ350 was also the first Yamaha street bike sold in the USA that used a "perimeter" frame that uses rails around the underside of the fuel tank as opposed to the standard frames of the era, which ran as a spine under the center of the fuel tank. The 1985 Kenny Roberts Edition RZ350LC offered here is one of the quite rare leftover models with revised graphics that somewhat resembled the 1983 UK versions, but with gold rims and the Kenny Roberts signature, originally sold as an RZ350NC2 in California only from late 1985-6. It has been owned from new by only two enthusiasts and has been very tastefully modified with an original 1985 full fairing and Corbin Gunfighter single seat. Mechanically, the hugely desirable Pro-Design Cool Head was installed for increased cooling, and a Toomey exhaust. The bike runs exceptionally well. It starts easily, idles well and has great power delivery. It shifts through all gears perfectly with a good clutch. Suspension feels taut and the brakes work very well, front and rear. Cosmetically the bike is in good condition with the usual scuffs of a bike with 17,000 miles, that is 32 years old. The bike comes with a clean, clear California title and a substantial box of spare parts, including stock fairing, original exhaust pipes, turn signals, etc. These are not bikes for the inexperienced or faint-hearted, with huge wheelie-popping performance on tap when the revs rise.
Trim FAST FUN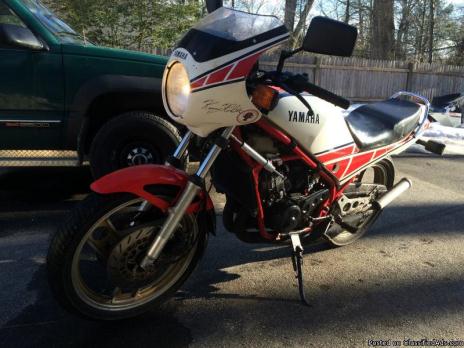 $3,200
Marietta, Georgia
Category -
Engine -
Posted Over 1 Month
1985 Yamaha RZ350 RD350LC

$4,995
Englewood, Colorado
Category -
Engine -
Posted Over 1 Month
For Sale: 1985 Yamaha RZ350. Rare to find one in this good of condition. 22k miles, Factory exhaust, steering damper, fresh tune, runs and rides great. For more information please call Steele's Cycle at 303-781-5339 or visit our Colorado showroom for a test ride! We are Denver's largest and most affordable pre-owned motorcycle dealer. Additional finance charges may apply.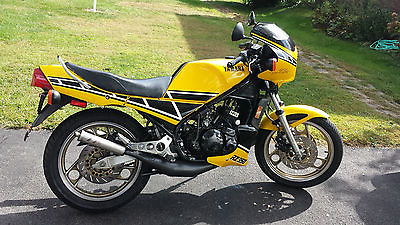 $10,000
Stormville, New York
BASIC SPECS: A two-stroke, power-valve-equipped 347cc parallel twin with 26mm slide-valve Mikuni carbs, oil injection and six-speed transmission. A steel-tube frame with an aluminum swingarm rolls on 18-inch wheels with triple disc brakes. Its simplicity allowed it to be a light 371 pounds with the 5.2-gallon (!) gas tank half full. WHY IT'S DESIRABLE: The RZ350 is the most modern and last legal street-going two-stroke sold in the US. In the first full test, Cycle Workd July 1984 cover bike rated a "perfect 10" on the fun scale. On Jerry Branch's dyno, the stock RZ350 made 42.7 hp at 9,000 rpm; redline is 9,500. The RZ350 turned in an impressive quarter-mile time of 13.19 seconds at 99.22 mph, and that was with the OE catalyst exhausts. Fun and nimble handling are improved with fitment of modern tires on those classic '80s wheels. A surprising number of these bikes come up for sale at reasonable cost, but original, low-mileage examples in excellent condition can go for double blue book. Aftermarket parts support remains very good.
Trim Keny Roberts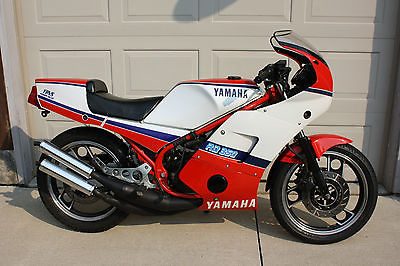 $4,750
Brantford, Ontario
Category -
Engine -
Posted Over 1 Month
Nice clean RD, c/w brand new Micron GP pipes 1200$ alone,the sweet factory single seat cowl low kms and comes with all stock original pieces,ie; pipes stock seat cowl,signals center stand and stock airbox as this bike has the better aftermarket box, the reason the signals are off and mirrors is that it just looks that much cooler.This bike is on display in my home,and has been stored properly.The reason I am selling is that I am slowly working on my RZ500.This bike was bought originally in Germany by the previous owner and brought over to Ontario Canada.Basically the same bike we got in 85 less the RZ name,europe versions were RD and there is a extra little button to flash your light for passing!Serious people only as some wabu pushed Buy it Now and never paid and caused me some grief!I raced RDs & RZs for years and they are simply brilliant.These bikes are rare now that are this complete and clean as it seems to have never seen any rough weather she is a survivor friends,this is not some oxidized piece of crud.This bike shows well and may compliment your collection?Tires excellent,new rear and I will be supplying a shop manual,original manual, brand,new battery.The only real flaw is a small blem on the rh side fairing that was there before my ownership shown in the pics an easy fix. Any Real inquiries Home 519 7568060 cel 519 209 4256 I would be willing to assist on the shipping arrangements.Lots of these in America, if there is a will there is a way! Thankyou I may reduce price$ if you only require the stock mint pipes not shown in pics opposed to the beautiful Microns. Keep 2 Smokin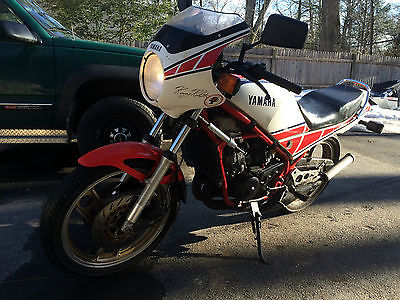 $3,600
Mount Kisco, New York
Bought this bike sort of recently thinking I would ride it this summer, I have 6 other bikes that I can ride and decided I am going to sell this one, I just don't have any space. Now about the bike: It runs fantastic, starts first kick, YPVS system works as it should. It has aftermarket toomey pipes, canadian model carbs (no restrictions like the US carbs of the era) Fox suspension. Oil injection hooked up and working fine! Goes down the road very straight and is very fast for what it is, very lightweight. Comes with chin fairing which is currently not mounted on the bike. Cosmetically it is not perfect (see pictures) but it is okay, could use a new bikini fairing around headlight ($100 new online) other then that, everything else could be repainted or re-decal'ed. Odometer shows 15,000 miles who knows if this is accurate or not. again this bike runs AWESOME Feel free to ask any questions. Payment is expected in cash with a NON REFUNDABLE $200 deposit within 24 hours of auction close. Bike must be picked up in 7 days from auction close. If you can't do that please let me know when submitting your best offer. I can accommodate shipping companies but please contact me prior to making an offer or make a note of it in your offer.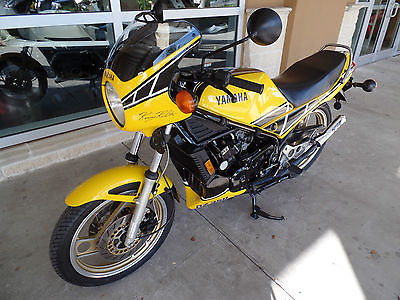 $10,700
Naples, Florida
WHEN ONLY THE FINEST WILL DO. ABSOLUTELY STUNNING ORIGINAL 1985 YAMAHA RZ350 KENNY BOBERTS.THIS ORIGINAL RZ350 IS AMAZING.ORIGINAL PAINT.NEW BRIDGESTONE BATTLAX TIRES FRONT AND REAR.ONLY 17K ORIGINAL MILES.STARTS FIRST KICK.EVERY LIGHT,TURN SIGNALS,HORN WORK PERFECTLY.THE ENGINE RUNS FLAWLESSLY.TRANSMISSION IS SMOOTH SHIFTING.SEAT IS PERFECT.COMES WITH TOOMEY EXPANSION CHAMBERS.ANY SPOTS OR MARKS YOU SEE IN THE PICTURES IS JUST REFLECTIONS,THERE ARE NO SPOTS OR MARKS.TAKE A CLOSE LOOK AT ALL 24 PICTURES.THIS MAY WELL BE ONE OF THE NICEST RZ350 ANYWHERE.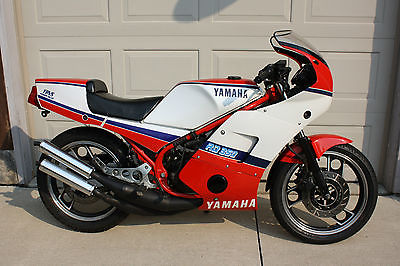 $5,200
Brantford, Ontario
Category -
Engine -
Posted Over 1 Month
Nice clean RD, c/w brand new Micron GP pipes 1200$ alone,the sweet factory single seat cowl low kms and comes with all stock original pieces,ie; pipes stock seat cowl,signals center stand and stock airbox as this bike has the better aftermarket box, the reason the signals are off and mirrors is that it just looks that much cooler.This bike is on display in my home,and has been stored properly.The reason I am selling is that I am slowly working on my RZ500.This bike was bought originally in Germany by the previous owner and brought over to Ontario Canada.Basically the same bike we got in 85 less the RZ name,europe versions were RD and there is a extra little button to flash your light for passing!Serious people only as some wabu pushed Buy it Now and never paid and caused me some grief!I raced RDs & RZs for years and they are simply brilliant.These bikes are rare now that are this complete and clean as it seems to have never seen any rough weather she is a survivor friends,this is not some oxidized piece of crud.This bike shows well and may compliment your collection?Tires excellent,new rear and I will be supplying a shop manual,original manual, brand,new battery.The only real flaw is a small blem on the rh side fairing that was there before my ownership shown in the pics an easy fix. Any Real inquiries Home 519 7568060 cel 519 209 4256 I would be willing to assist on the shipping arrangements.Lots of these in America, if there is a will there is a way! Thankyou I may reduce price$ if you only require the stock mint pipes not shown in pics opposed to the beautiful Microns. Keep 2 Smokin