1969 Honda Mini Trail 50 Motorcycles for sale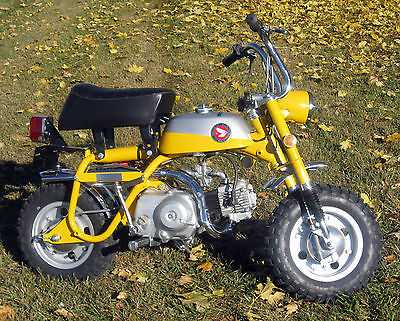 $3,499
Salt Lake City, Utah
Category Off Road Motorcycles
Engine 49
Posted Over 1 Month
Selling a beautifully restored 1969 Honda Z50A Mini Trail 50 K1. This bike has been taken completely down to the frame, repainted, plated and polished and would be a great gift for Dad or Son or make a wonderful addition to that Man Cave or Office, its a great conversation piece. All parts have been restored or replaced with the correct factory originals where possible. No expense has been spared to bring it back to its former glory. This is not a 100% point restoration, but the bike is better than factory new condition. All electrical (bulbs, switches, battery, etc.) have been replaced where needed. New tires, seat, levers, peg rubbers, shift lever, taillight bracket and light assembly, emblems, all decals, the list goes on and on, too much to list here. The handlebars are factory original and are straight, but there are some very small scuffs in the chrome surface. Completely repainted with automotive paint and then clear coat (two stage). It is not the correct factory yellow, but you would be hard pressed to see a difference and the yellow really pops with the clear. All fasteners, hardware, brackets, etc. that were factory zinc plated have been correctly replated. 99% off the bolts do have the correct Honda "8" on the heads. The engine has been taken completely apart and all seals/gaskets replaced and new piston rings. It runs great, no smoke or leaks. All engine covers have been painted and polished where needed. This is not just another dressed up Z50, a lot of time and effort has been put into this restoration. Ebay made me list something for a title, so I did list it as a "clear" title, but this bike does not have a title. The state of Utah will not issue a title for an off-road vehicle of this age. Your state may be different so check with your DMV. I will provide a Bill of Sale. I am sure I have not covered everything here so please be sure to ask any questions before buying, if I can think of anything else I will add it. I am willing to take any additional photos that may be needed and will answer all question quickly and honestly. Be sure to look over all photos carefully and again ask any questions. The buyer will be responsible for all shipping costs and arrangements. I am willing to crate if needed, but at an additional cost. I am willing to help out if I can, but please contact me prior to buying to discuss any arrangements that may be required for shipping/crating.
Trim Mini Trail 50 K1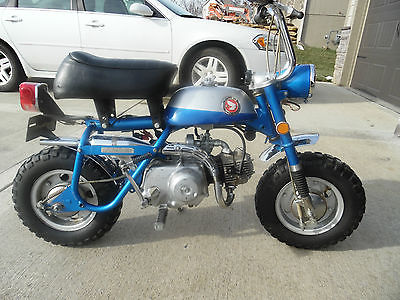 $1,700
Independence, Missouri
Category -
Engine 50
Posted Over 1 Month
1969 Z50 Mini Trail in good and running condition. All original, stored in garage, for the bike being 47 years old it is in great condition besides a few dents in the tank, front fender and back fender, as well as some minor scratches. As you see in the pictures, there is also a small tear in the seat. I have just recently rebuilt the carburetor, it also has a new spark plug, as well as freshly changed oil. A new battery is on the way and I will replace it before seller recieves bike. As seen in the picture, I left it running to show the headlight does work. The bike does shift through all gears, overall a really great bike. Bike has no title. Buyer is responsible for shipping or picking up. Will not ship out of the United States. I am also selling another one that looks very similar to this one. I Wanted to sell them separately just in case someone wanted to buy just one. I am at work a lot, so I would prefer for a call over a email. Call anytime at 816.651.6210. I am also selling this bike locally so I do have the right to end this auction. On Dec-25-16 at 12:48:38 PST, seller added the following information: Link to the other bike: http://ebay.com/itm/222356912536?ssPageName=STRK:MESELX:IT&_trksid=p3984.m1555.l2649On Dec-25-16 at 14:16:40 PST, seller added the following information: Bike is sold as is, no warranty.On Dec-26-16 at 10:57:31 PST, seller added the following information: Bike had no keys, so I had to have keys made for it.
$5,700
Winter Springs, Florida
Category -
Engine 49
Posted Over 1 Month
1969 Honda Mini Trail 50 I can't list it as new but the condition is definatly new It has not been outside since being completed Fully restored and is Museum/Concourse Condition All original.. OEM and NOS parts were used where needed Engine has been completely gone through and runs perfect Inside the gas tank is as if it's brand new All the chrome has been triple plated And beautiful  Correct tires and paint Everything has been completely gone through and new Wiring harness is correct and new No expense was spared  Over $4500 just in resto and parts without the labor I've done all the work so you can enjoy it!  Please ask any and all questions prior to bidding Shipping cost will be the responsibility of the buyer I will assist with your shipper. I am a trusted seller with 100% positive feedback so bid/buy with confidence $500 deposit due at the end of auction and full payment due within 3 business days by cashiers check.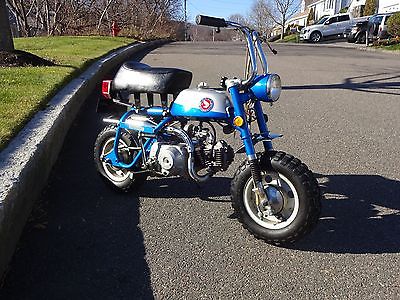 $2,500
Lynn, Massachusetts
Category -
Engine -
Posted Over 1 Month
Honda Mini Trail Z50 Production date of December 1969 Not restored. Original blue/silver paint. Chrome has some pitting. Some touch up marks on paint, scratches, etc. as shown in photos. Stored in a basement for many years. Original condition, not perfect, but nice for the age. This bike runs excellent, all gears, clutch, and lights work properly. Nice original example of a Z50 mini bike. Buyer is responsible for all shipping charges.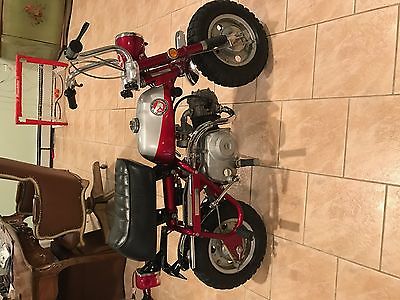 $5,000
New York, New York
beautiful 100% honest all original 1969 honda z50 silver tag with title.this little machine comes from the original owner from bellrose queens n.y. the lady bought it for her son at 5 years old but he never used it much.he recently passed away. it was sitting next to his harley davidson in the garage when i picked it up.she was very broken up about getting rid of it.but she said it was time to let go.i would say the condition is a 9 out of 10.the only way in my book something is a 10 if its untouched.there is nothing played with here or redone in any way it is a pure gem.this is the real deal not some frankenstein repaint repop hunk of junk,it starts on first or second kick rides and shifts like it should.serial #Z50A143339 MOTOR #Z50-OAE14276 GET A LITTLE PEICE OF MOTORCYCLE HISTORY/.ITS ONLY ORIGINAL ONCE.PLEASE ASK ANY QUESTIONS THANK YOU AND GOOD LUCK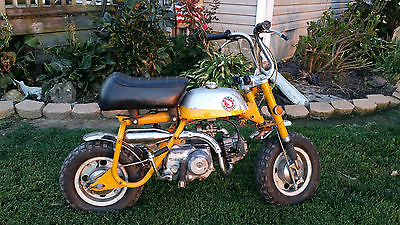 $1,700
Martinsville, Indiana
Category -
Engine -
Posted Over 1 Month
I have a 1969 Honda Z50 for sale. I got this bike from the original owner who has it since he was a kid. The bike has sat for about a year but kicks over with good compression and has spark will fire but probably just needs carb cleaned. Gas tank is very clean. Key is still with the bike. Nice little surviver. Please email or call with questions 317-496-8803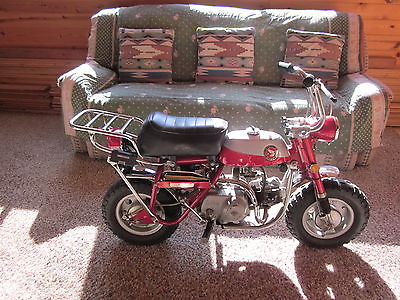 $3,333
Flagstaff, Arizona
VINTAGE 1969 HONDA MINI TRAIL 50 "LITTLE RED". Mfg: Honda LTD. Model: Z50A. Production No: 149431. Motor: 49cc. Weight: 85 Lbs. Tire Size: 3.50-8, 2 Ply Rating. Tire Mfg: The Nitto Tire Co., LTD. Cond: Used, Runs And Shifts "PRIMO". Deluxe Model, Chrome Skid Plate, Chrome Cargo Rack, Chrome Fenders, Chrome Chain Guard. Mini Trail Comes With Bill Of Sale. I Have Had This Very Cool Mini Trail For Over 35 Years And Now It's Time To Pass It On. ***Note: Buy It Now Includes "FREE" Shipping In The Continental U.S. Only. Thanks For Looking.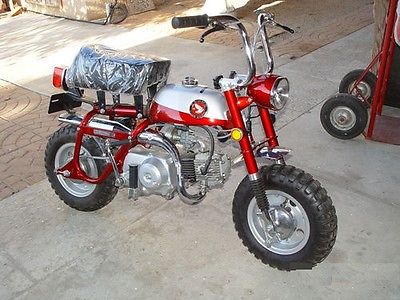 $8,000
Orange, California
Category Dual Purpose Motorcycles
Engine 49
Posted Over 1 Month
This offering is for a pair of Honda Mini Trail 50s. They are both first year bikes, KO and K1 and are in mint condition. The 1969 is the early silver tag and is great for a game room or a collector, very nostalgic. The bikes are priced as $4,000 per bike and the sale is for both bikes. The one without the light package is the 1968 KO and the one with the light package is the 1969 K1. Both have been used as office art for years and are currently on display and Classic Cycles, Inc. located in Orange, CA. As they have been used for office art for years, they are not currently registered and there are no titles, just a bill of sale is available. If you have specific questions or would like to request more pictures please email me or contact Tony Dunn, the owner of Classic Cycles, at 714-974-1438. Note these bike are really nice. This is not a desperation sale. Serious Honda lovers only please, no low ball offers.
Trim Z50 Silver Tax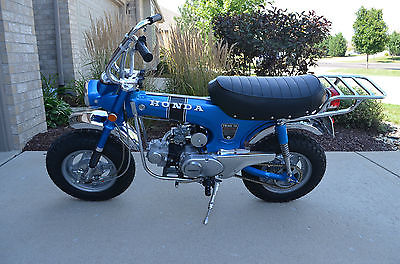 $4,500
Homer Glen, Illinois
Beautiful Candy Sapphire Blue 1969 Honda CT-70 3 Speed Vin# CT70-109271 Mileage 1381 Up for your consideration is the rare and very sought after 1969 Honda CT-70 3 speed. This is a beautifully restored Candy Sapphire Blue 3 speed automatic. Runs great and looks even better. Bike has been restored, but in tasteful fashion. There are many original parts that are in good shape that were left on this restored bike. I will do my best to give a complete and thorough description. Please look at all the pictures I have provided and ask any questions you might have before placing a bid. The bike starts right up drives straight and shifts smoothly. The horn, high and low beam, brake light, and speedo all work as intended. The chrome is in great shape for its age and is exceptionally clean. The fenders and engine guard are the original chrome and were polished back to their current state. Although the chrome is not perfect it shows very well. I just couldn't justify re-chroming such nice original parts. I did polish the triple clamp, points cover and cam chain cover with Mothers polish to clean them up. The seat cover is new and the seat pan had no cracks and only needed painting. The cables are all original and in nice condition and function as intended. You will also receive 2 keys. Now a few more details……the paint, decals and new tires and inner tubes were done at Trail-Buddy in Zeeland, Michigan in December 2014. The paint is flawless and is the same as the original color. The Nitto tires (that have minimal sidewall cracking) that came off the bike will be included in this sale. There are many new parts that are original Honda OEM to make this 1969 look like the day it was built. Every attempt was made to keep this bike just like it was when purchased new, just freshened with paint, decals and fresh wiring harness. The speedometer is original and the only thing replaced were a couple of burned out bulbs and a new seal between the unit and the headlight bucket. A new Honda OEM wiring harness and ignition switch with two keys was installed to repair the original wiring that was worn and a sticky ignition that only had one key. The original loose bearings in the front fork were removed and replaced with a sealed set by Trail-Buddy after it was painted. The original rear shock cover tubes were repainted along with the chain guard. I liked the chrome chain cover and installed it, but the newly painted sapphire blue chain guard will come with purchase. The handle bars and knobs are original, just a little polish to bring out the luster. All new gas supply lines were installed and the carburetor rebuilt including the fuel filter screen. A new OEM air filter canister with chrome covers were installed. I installed an aftermarket billet kick stand, but I will also include the original kick stand. This bike also comes with the very nice rear rack. The pictures detail the current condition of the bike. The motor has a fresh tune-up including a new spark plug and spark plug wires. The oil was just changed using Quaker State 10W-30. Once you look at all the photos, feel free to ask any questions. It is available for inspection prior to auction end. This bike has been owned by me for several years. I bought it from a collector in Washington state with a bill of sale. It was a bike I always wanted since I was a kid. I am moving and just don't have room for it anymore. I will provide the buyer with a bill of sale. Overall I think this bike will make any collector proud. Happy Bidding! NOTE:The photo of the right side was taken prior to the side decal being installed. The decal is present in other right side photos. In addition, the engine number on this bike is #CT70E-105351. It is a rare thing to ever see an actual number matching bike, this one is unusual since the engine number is lower than the frame. The collector I bought this from told me the original owner stated that engine had a problem and the dealer had replaced the motor at no charge under warranty. It is still a 1969 motor on this early production number bike (check Honda50.com to verify range of both the frame and engine numbers). I am trying to fully disclosure everything I know about this bike so the winning bidder will have no surprises.I have pictures of the original Silver Tag that was on the bike before it was painted. Unfortunately, the tag was destroyed in the paint stripping process. An identical reproduction tag was installed, but again, it is not the original. Payment: $500 non-refundable deposit within 24 hours of the end of the auction. Final payment must be received within 7 days of end of auction. Payment Choices: Cash in Person, Cashiers Check from Major US Bank, Wire Transfer from Major US Bank Final payment can be made via PayPal if you cover the fees above the initial $500 deposit. The bike will not be released until all payments clear. Will ship the United States ONLY Buyer Is Responsible for all shipping fees and arrangements. I will give any reasonable assistance with the pickup of the motorcycle. Can pickup in person. WARRANTY: THEIR IS NO WARRANTY BIKE IS SOLD AS-IS
Trim CT 70

$2,000
Kitty Hawk, North Carolina
Category -
Engine -
Posted Over 1 Month
Restored with original Honda parts! Tank retains original paint and emblems,Frame and forks sandblasted and painted House of Kolors blue, chromed rims .new tires, cables, I Have Oem grey cables with switches,new Fenders, Seat, exhaust guards,tail pipe, air cleaner,Kick starter Fork boots, all OEM Honda, have battery and holder not installed,polished aluminum intake whell hubs and carb, ready to Go! engine is OEM Honda & strong running shifts smooth.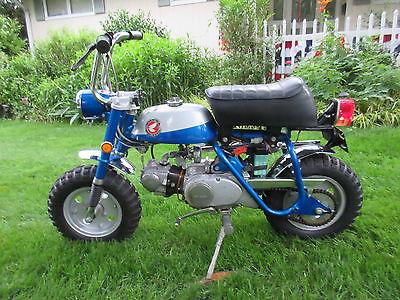 $2,800
Harrington Park, New Jersey
Up for sale is a 1969 Honda z50 mini trail. Its all original and unrestored. Nothing has been detailed or touched up. Runs excellent. Starts with one kick. It has been kept in my climate controlled basement. Bought it three years ago from the original owner. Everything works as it should. Hi an lo beam lights working all brakes work. Shifts great. Original battery still present. Tank is in great shape has couple small dings from bars hitting it. No rust inside of tank. Seat is excellent shape, free of rips or tears. Overall has its patina-some wear on paint and scratches here and there. No dryrot on the tires. No leaks and or weird noises from tank or engine. It will come with a bill of sale. I have the right to end auction early. I will ship at the buyers expense. I can be reached at 201-264-9211. Thanks Neil
Trim z50 minitrail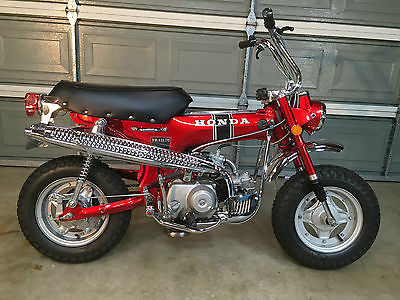 $5,000
Thousand Oaks, California
1969 Honda CT70 SILVER TAG. Vin # CT70-113419 The Engine is from a later KO approximently a 1970. The Engine # CT70E-163803Mileage 1830 but my change slightly.Approximently 50 miles since restoration. This is a restored bike that has survived 47 years and is now near perfect condition . It has been repainted in the beautiful Candy Ruby red color that was only available on the 3 speed model. This 1969 Silver Tag KO model is sought after by both collectors and fans a like. It still has some of the early features only indicative to the Silver Tag bike. Black backed horn, speedometer, frame with wiring hole in rear, black plastic levers and one piece points cover. The bike was dissembled, primed base coat, top coated, and cleared in matching Honda Ruby Red color at Mike's Mini Trail Restorations. New decals and side badges along with the chrome strip on the frame were then added. Seat hinge and tank cover were painted gloss black. Battery box, many of the #8 bolts and all bare metal parts were re-zinced. New CHP replica seat, carb, rear shocks, handle bars, cables, black levers, engine cradle, rear brake pedal and hardware. New OEM fenders, grips and throttle assembly and taillight lens. New front fork extensions, fork guides, boots and slides. Foot peg and kick stand assembly were painted in semi gloss black and new springs, bearings and pivot pins were added. The engine was completely disassembled, cleaned and all parts checked and warn parts replaced. New jug, piston, rings, new aftermarket head and kick shaft. Complete new exhaust, chain, wire harness, ignition that has two keys, battery and foot brake switch. Headlight high beam and speedo lights all work as intended . I believe this bike will make any collector or enthusiast proud. This bike though near perfect does have minor flaws here and their. Please inspect all the pictures and ask any questions you may have before bidding. The bike will be SOLD AS-IS with no warranty promised or implied. Payment: $500 non refundable deposit due via PayPal within 24 hours of purchase. Final payment: May be paid via Paypal if the buyer pays the Paypal fees.Will also take cash in person, cashiers check from major US bank or wire transfer from major US bank.The bike will only be released once all funds have cleared. Shipping: The bike will only be sold to a buyer in the continental 48 US states.It is the buyers responsibility to arrange and pay all fees associated with shipping. I will assist in whatever reasonable way I can with your shipper
Trim CT70 Z50 XR75 MT50 MINIBIKE SUZUKI KAWASAKI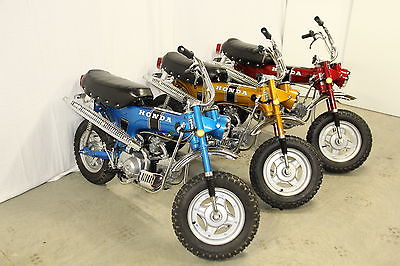 $13,500
Dubuque, Iowa
Selling a set of 3 colors of the 3 speed CT70 for a client. All low hour bikes with slight upgrades like fresh engines, exhaust, tires, and small components. Original seats and paint! I you have any questions, want more pictures, or want to view the bikes are in Dubuque Iowa. Call me at 218-213-8717 I have the right to end the auction early as the bikes are for sale locally. Per the owners request the bikes can be purchased individually. The ruby red CT70 is Silver Tag. The mileage is 412.2. Check out the rear swing arm and the chain guard! It tells the story! This bike along with the others are in like new condition.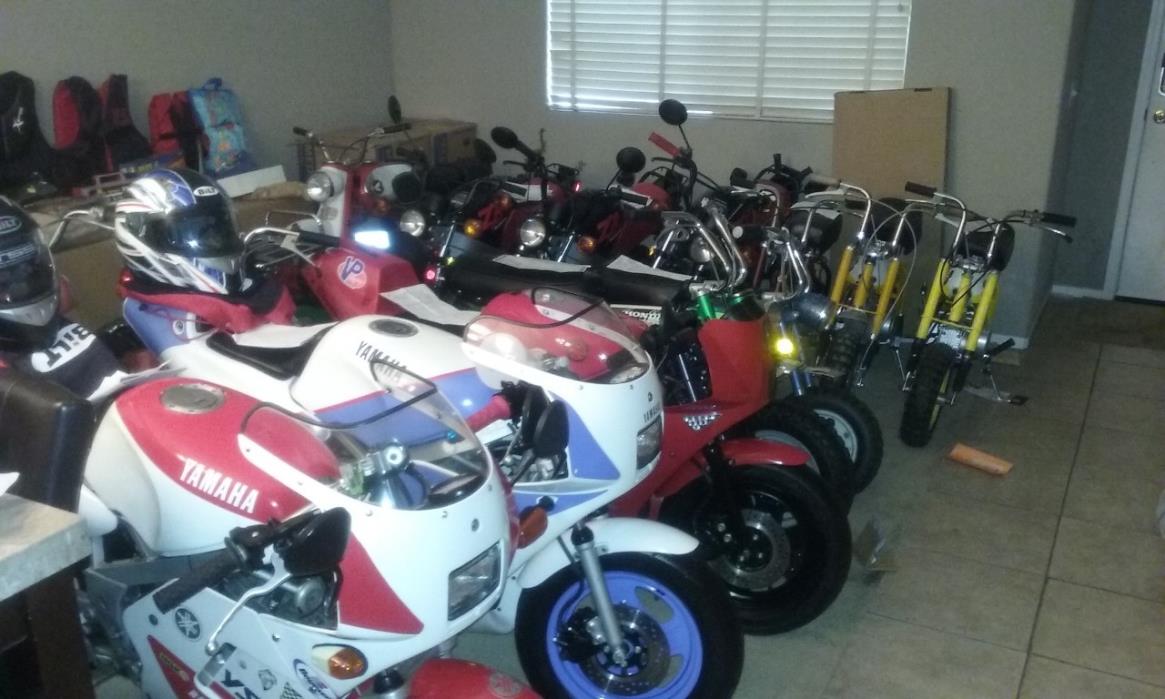 $1
Rancho Cucamonga, California
Category -
Engine -
Posted Over 1 Month
Various mini trail bikes for sale and some parts. Honda CT70H, Honda Z50A, Honda ZB50'S, Yamaha YSR50'S, Harley Davidson AMF shortster, Honda US90, Honda ATC90, and more. Ask for Brian. Happy Holidays!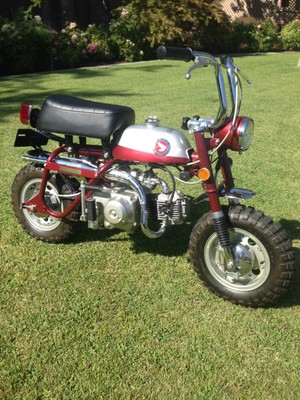 $6,199
Fresno, California
Category -
Engine -
Posted Over 1 Month
Hello, Up for sale is a 1969 Honda Mini Trail that underwent a professional restoration by a man who does concourse vehicle restorations...Nothing was left untouched on this bike! Many NOS parts and it is just perfection. It has been in my living room for a while and is a great conversation piece. NO gas has ever been put into the bike...It has never been fired! The pictures do the talking on this one. Shipping: Can be shipped anywhere for a fee- for example California customers will pay $150.00 for shipping.Payment: Paypal or bank transferReturns: All sales final